---
Finally, We Get To Travel!
If we can travel, you can too!
---
We're recent empty nesters who just discovered travel hacking! Want to see how we're making unforgettable memories traveling on points and miles? Come along with us as we learn how to travel for free, or at least on the cheap!
Learn how to travel for free or on the cheap with us!
Travel Hacking Blog
---
Let our travel adventures inspire you as we finally get to travel!
---
Learn the Art of Free Luxury Travel!
In this free 14 page eBook, Zuzu & I show you the exact steps that we use on our fantastic adventures. Just download the book & you'll soon be traveling on points while you see the world without breaking the bank!
---
Trip Reports
---
Get practical advice based on our own experience and adventures.
---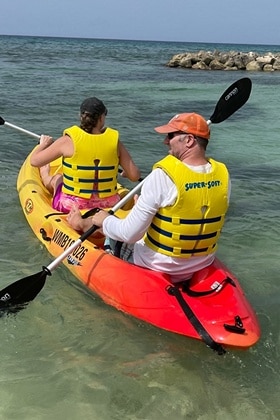 ---
With a reputation as an expensive island, could we really take a luxury vacation to Nassau,…
Our little girl Kendall graduated from UT! We've lived in Knoxville and visited many, many times.…
Guide to Free Luxury Travel eBook
Learn the tips and tricks that saved us over $50,000 in two years: 4 free nights at a Jamaica All Inclusive Resort. Round trip to Hawaii for free. 2 nights in Key West for Free. Download this 14 page eBook that shows exactly how We Get To Travel so that YOU Get To Travel!
Jobs fill your pocket, but adventures fill your soul.

Jamie Lyn Beatty
Hotel Reviews
---
Read real hotels reviews from a pair of recent empty nesters.
---
Airport Reviews
---
Don't just race through the airport with no plan. Read real airport reviews and reviews of airport lounges.
---