Fantastic stay at the brand new Hyatt Place Panama City Beach! Zuzu and I made a quick 2 night stay at this hotel that opened in late 2022, just months before our stay.
Hyatt Place Panama City Beach Review tl;dr
Easily my favorite Hyatt Place ever. Built & opened in 2022, the Hyatt Place PCB doesn't feel like any Hyatt Place I've been to before. It's nicer than some of the supposed 4 star resorts that we've visited. The brand new property is a good fit for its spectacular beachfront location.
It feels more like an upscale Hyatt Centric Resort than an average Hyatt Place.
For World of Hyatt members, this may be the best beachfront Hyatt you can book with points if you want a great redemption rate. It's definitely the best Category 4 Hyatt on a beach!
Other Hyatt Place Panama City Beach Reviews
Before we travel, Zuzu & I always look for online reviews to decide where to stay. Since this is a new Hyatt on the beach, there were very few reviews of the Hyatt Place Panama City Beach for us to read.
The only reviews that we could find were on FlyerTalk, Google, & TripAdvisor. You can often get a feel for a resort from those websites but I'd much prefer an in-depth, comprehensive review of Hyatt Place PCB to just reading a few hot takes on Google.
Booking & Reservations
Part of the reason we went was to take advantage of a Southwest companion pass promotion. By taking the quick, cheap nonstop from Nashville to Panama City Beach Airport, we earned a two month companion pass for January and February of next year.
Rooms & Prices
With 224 total rooms, including 13 suites, I was surprised to find over a dozen different room types and rates at the Hyatt PCB. The main options are:
King Bed or 2 Queen Beds or Bunk Beds
Low Floor or High Floor
Gulf View or Inland View
Kitchenette or Not
Suite (really??) or Standard Room
As a beachfront hotel, prices at the Hyatt Place PCB change dramatically with the seasons. Low season prices are as low as $100/night for the cheapest rooms while the summer price jumps to around $700!
Our shoulder season stay would have been $265/night for the cheapest room: king bed with no view of the beach or water.
Since Zuzu & I are top-tier Hyatt Globalists, we often get free upgrades to nicer room but was surprised to see they had suites at Hyatt Place PCB. The King Suite with a Gulf view was $435 per night. I was hoping for this upgrade.
Spoiler Alert: We got the Suite!
And our surprise turned to borderline shock when we saw our suite, but more on that later.
Redeeming Points
If you've followed us at all, you know that We Get To Travel only because we figured out how to stay for free at nice hotels by earning and redeeming points. The Hyatt Place Panama City Beach is a STEAL if you redeem Hyatt Points for a free stay!
Award Category 4 Hotel
As a Category 4 Hyatt property, the Hyatt Place PCB standard rate is 15,000 points per night. Our stay in November was at the off-peak rate of 12k. If you stay here on a peak night, you'll pay 18k Hyatt points.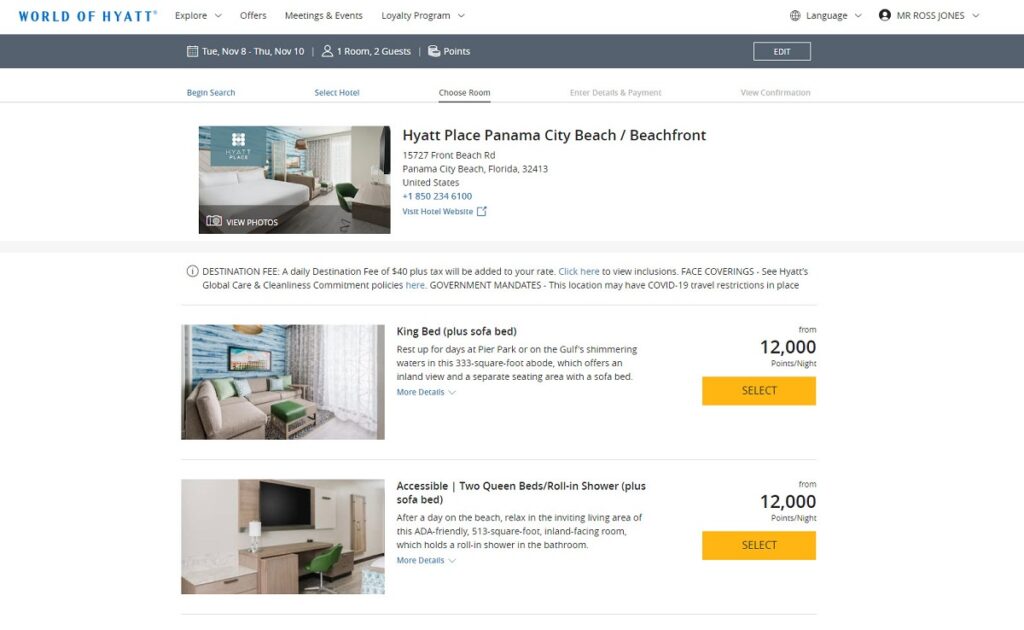 For what this hotel offers, that's unbelievably cheap! It's at the top of the best Hyatt Category 4 hotels list.
One nice surprise when we booked our stay was the Hyatt Pay My Way option. Pay My Way lets you pay for each night in one of 3 different methods of payment:
Cash
Points
Free Night Awards
In this case, I used 1 of my Category 1-4 Hyatt Free Night Awards on one night & I used 12k points to pay for our 2nd night.
How Much Were Our Hyatt Points Worth
To us, Hyatt points are the most valuable points for any hotel loyalty program. Here's what World of Hyatt Points are worth at this hotel:
Booked: Base room $265 or 12,000 points: 2.2 cents per point
Received: Suite $435/night or 12k points: 3.6 cents per point
If we went in the high demand summer months, rooms would be 18k points but here's the math:
Base room $700 or 18,000 points: 3.8 cents per point
Suite (if you get a free upgrade) $911 or 18k points: 5.1 cents per point
To put that in perspective, most travel bloggers say that ~2 cents per point is a very good rate to get from your Hyatt points.
Want to travel for free like Zuzu & me? A free trip to PCB would be a fantastic goal for someone who's new to points & miles or who wants to get the best redemption for their Hyatt points!
You could earn a 2 night free trip by either getting the Hyatt credit card or getting the Chase Sapphire Preferred card, and moving $1000/month of your normal expenses to it for a few months.
Room & Price FAQ's
How many rooms are at the Hyatt Place Panama City Beach?
There are 224 rooms including 13 suites.
How much do rooms cost at the Hyatt Place PCB?
Standard rooms range from around $100/night in low season to $700/night in the high season.
Can you use Hyatt points and free night awards at the Hyatt PCB?
Standard rooms can be booked with 15,000 Hyatt points on standard nights. Peak nights are 18k and off-peak nights are 12k. You can also book a standard room with a Category 1-4 Promotion Award. This may be the best Category 4 beachfront Hyatt that you can book with so few points.
Location
Can you ask for a better location? The Hyatt Place PCB is halfway between downtown Panama City Beach and the ritzy 30A area on the Gulf Coast. You're just a few miles from the great shopping in Rosemary Beach, Alys Beach, Seacrest, Seagrove Beach and Seaside.
Nearest Airport
Also known as the PCB Airport, the Northwest Florida Beaches International Airport (ECP) is a small and convenient airport only a 30 minute drive away from the Hyatt Place PCB.
If you're near a Southwest hub like Zuzu & I are in Nashville, you'll find plenty of fast & cheap flights to PCB throughout the year.
Street Address
If you need an address for GPS or for mail, the Hyatt Place PCB is:
Hyatt Place Panama City Beach
15727 Front Beach Rd
Panama City Beach
,
FL
32413
Other Hyatts in Panama City Beach
Although it's the only Hyatt in PCB, there's another Hyatt about 30 miles away in Destin FL. The Hyatt Place Sandestin at Grand Boulevard isn't on the beach but it's in the action at the Grand Boulevard Town Center.
Arriving at Hyatt Place PCB
From a distance, the Hyatt Place Panama City Beach stands out among the other high rise condos and hotels on the beach front due to the hotel's bright white paint job. It really does make it look newer than the other places to stay in PCB.
But the white paint is just a first clue that this is no ordinary Hyatt Place.
With the exception of the Hyatt Place in Knoxville TN, most all Hyatt Places have the same ho-hum color scheme: brown and tan. Thank goodness Hyatt didn't reuse that same boring color for a brand new property on a beautiful white sand beach.
Parking
Since beachfront real estate is at a premium, there's free parking in the matching white & blue parking garage right across the street from the Hyatt Place.
But before you get to the parking garage, the covered parking area at the front door is another feature that you won't find at any other Hyatt place.
There was even a fountain just in front of the glass entryway. This sure isn't like any other Hyatt Place that I've visited.
Valet Parking
When we pulled up to the front door, we were met by Moe, the valet. While he was super friendly, Moe let us know that Valet parking at the Hyatt PCB was $19/night and it is not free for Hyatt Globalists.
Since the parking garage was so close, it wasn't a big deal to self park.
Lobby Checkin
And then you see the Hyatt PCB's Beachfront money shot. Through the glass sliding entry doors, there's a beautiful view of the white sands of Panama City Beach staring right at you. Wow!
While this Hyatt's view might not be quite as impressive as some of the tropical Hyatt all inclusive resorts that Zuzu and I have loved, it's already separated itself well above the average Hyatt Place.
Moe, the valet, ushered us to the left and towards the hotel's front desk. He said Roxanna was wonderful and would take good care of us. He was right!
Roxanna at the front desk was great. Super friendly and welcoming.
She recognized my Globalist status and told me she was putting us in a room that she thought we would like on the eighth floor out of 11 floors in the building.
Although they were never checked, we got wristbands to wear while on the property.
King Suite Gulf View Room
Never have I ever… seen such a beautiful suite in a Hyatt Place.
While were were expecting everything to be new, we were really taken back by the effort & expense that went into the decor of our room. Definitely the nicest Hyatt Place we've ever visited!
Bedroom
Just inside the suite, the king bedroom is behind a flush sliding barn door.
Since this property only opened a few months before our vacation, the new TV and dresser were in perfect condition. And we were delighted to have such a great view of the beach out our bedroom window!
Even though Hyatt Place is the lowest tier brand in the Hyatt portfolio, the beds are usually pretty good. This was no exception.
The king bed in our suite's bedroom was medium firm, just like we like. The pillows were also just right. Soft enough, yet still substantial. The extra pillows we ordered were delivered within 10 minutes.
While we've had larger suites (like the HUGE 1377 sq ft suite at the Hyatt Ziva Riviera Cancun), we were still surprised with the space in the bedroom. Is this really a Hyatt Place? It felt more like a hip Hyatt Centric like we've stayed at in downtown Nashville & in Key West.
Bathroom
Just across from the bedroom door, the bathroom was also a pleasant surprise.
Lots of space in the bathroom with plenty of hooks and rods for hanging your wet beach towels & swimsuits.
While it was only a minor annoyance, the sink faucet sprayed in a way that it splashed out of the sink unless you ran it at a trickle. Gotta love those wet spots on your pants & shorts after leaving the bathroom, right?
Shower
In the suite's bathroom was a large walk in shower. No rain forest showerhead but plenty of water pressure.
Our only (minor) complaint about the shower was that the sliding door would creep open just a little every time we tried to close it. The floor would get fairly wet every time we showered.
Bathroom Amenities
The shower had large pump bottles of KenetMD shampoo, conditioner and body wash.
Living Room
Stepping from the bathroom through the entry hallway, we found the suite's living room. We just couldn't believe that this was a Hyatt Place!
The highlight of the living room was the large windows with great views of Panama City Beach and the beautiful Gulf of Mexico.
In our living room, there's a table for 4 people, a big screen TV and a sectional sofa with a bright orange (Go Vols!) accent lamp. To the left there's a door to what could be an adjoining room and an armoire for a closet.
Inside the armoire we found a room safe, wooden hangers, 2 robes, an extra blanket, coffee maker, an iron and an ice bucket with glasses.
Off to the right as you enter the living room is the kitchenette. There's a microwave oven, sink with a large countertop area, and an almost full size refrigerator and freezer.
Balcony
As opposed to a sliding glass door to the balcony (which is most common in beachfront hotels), our room had a glass door on hinges. And while the balcony itself was pretty small, we were on the corner of the 8th floor so we had a fantastic view toward the west.
On our balcony, there was barely space for a very small table and 2 chairs.
The one time that we ate outside on the balcony, we had to squeeze together and there wasn't space for the table to be between our chairs.
View from our Room
Looking straight down from our balcony, you see how close we were to the beach.
On the ground floor, you can see the Hyatt's pool area. That narrow area on the right side of the pool is the lazy river.
Since our room was on the western corner of the Hyatt PCB, we could see the Ferris Wheel at Pier Park about a mile away.
Restaurants & Bars
Even though this wasn't a Hyatt all inclusive resort with multiple restaurants and bars on property, there is a full service restaurant at this hotel.
And it has really good reviews on Google, Yelp & TripAdvisor.
Coconut Charlies
On the lobby level, opposite the front desk, Coconut Charlie's at the Hyatt PCB's is open for breakfast, lunch & dinner.
Free Breakfast
Like every Hyatt Place, all guests get free breakfast at the Hyatt Place PCB.
The Hyatt PCB follows the same schedule as other Hyatt Places. Breakfast is served M-F from 6:30am until 9am. On weekends, breakfast hours are 7am – 10am.
Even though the hotel had helpful signs about the free breakfast in the elevators, we slept late and almost missed breakfast. Kinda seems like a beachfront hotel would have a little later hours? Don't they know we want to sleep late, lol?
On our 1st morning, we got downstairs right at closing time: 9am. Upon realizing our mistake, we were delighted that Sandy, the supervisor, cheerfully said she would keep the buffet open a few extra minutes while we loaded up.
btw, it was a small thing for her to keep the buffet open for us but it stood out. So many hotel restaurants start closing before the stated time and are inflexible if you show up at the last minute.
During breakfast, I saw Sandy speaking with her boss, the Food & Beverage Manager. I told him how impressed I was that Sandy treated us so well and was empowered to help us. It was the type of service detail that you expect (but don't always get) in luxury hotels. To get this treatment at a Hyatt Place was truly unexpected.
As far as the food itself, this free breakfast buffet was better than average for a Hyatt Place.
There were all the things we expected: scrambled eggs, waffles and pancakes, sausage links or bacon, fresh fruit and yogurt.
But there were a few unexpected surprises as well.
I'd never before seen donut holes on a Hyatt Place breakfast buffet. They weren't great but I appreciated the effort.
Another surprise were the flour tortillas so I made myself a breakfast burrito with scrambled eggs, salsa and shredded cheese.
Further along the breakfast buffet, there was a small selection of perfectly fine muffins and pastries.
At the drink station, there was water, apple juice & pineapple juice but no orange juice.
Billed as a cereal bar, there were 4 Kellogg's brand cereals:
Fruit Loops
Corn Flakes
Raisin Bran
Frosted Flakes
Outside the little room for the main buffet, there was a table setup with 3 kinds of coffee as well as hot water and tea.
Even though the Hyatt PCB's website lists a waffle making station, they only had these 2 toaster ovens for making your own toasted bread, croissants & bagels.
Overall, the free breakfast buffet at Hyatt Place PCB was pretty good.
Probably the best Hyatt Place breakfast that we've experienced but it can't compete with some of the free breakfasts that we've had when we stay for free at luxury hotels & resorts.
Want to know what a truly exceptional hotel breakfast experience can be?
Check out our review of the best hotel buffet we've ever had! It was during our (almost FREE) once in a lifetime Hawaii vacation at the $2000/night Andaz Maui.
Restaurant Dinner
Since Coconut Charlie's restaurant had good reviews on Google, we decided to try dinner there one night.
We had seen a flyer for the restaurant that had an amazing looking Margherita Pizza.
I mean, just look at all that cheese in the picture!
Unfortunately, what we got was exactly 1/2 as much cheese compared to the false advertising that had suckered us into ordering the pizza.
The pizza was fine, just disappointing compared to what we had been led to expect.
I ordered the fish which was the nightly special. The brussel sprouts were a bit salty but still great. The white fish (snapper, I think) was ok. The mashed potatoes were disappointing.
To wrap up the Hyatt's restaurant review, Coconut Charlie's is fine but there are lots of better options for places to eat in Panama City Beach.
Hotel Amenities
By design, Hyatt Place hotels are limited service hotels. But in addition to the full service restaurant here, there were a number of other amenities that make this stick out as the best Category 4 Hyatt in the US.
Starbucks & Market
Next to the front desk, there's a Starbucks inside the Hyatt Place PCB.
There's also a market with snacks, drinks, beer, canned cocktails and travel essentials like razors, deodorant and medicines.
You'll also find some beach essentials like sunscreen and swim diapers. Hyatt PCB also has a small selection of bathing suits as well as souvenir hats & tshirts.
Internet Access
In most of the hotel, you could get a decent wifi connection that was usually around 13MB download speed. The hotel's wifi lost strength at the pool and didn't work at all on the beach.
I did have a decent Verizon LTE signal (2-3 bars) in most places outside the hotel.
Pool
While not huge, the pool at the Hyatt PCB was nicer than I expected. At one end of the pool, there's a zero entry walk-in option. The majority of the pool was 4 ft deep. There was an accessible lift for people with disabilities.
Hot Tub
On the beach side of the pool, there was a large hot tub with seating for about 15 people if you're friendly. There was also an accessible lift at the hot tub.
During our entire stay, the hot tub was a popular spot. It was occasionally empty during the day but it was always full at night.
Lazy River
The most interesting feature of the pool was the lazy river. You'll find a lazy river on some of the nicer beachfront condos and resorts but I was astonished to find one at any Hyatt Place.
It only wrapped around half the pool but it's just one more example of why I think this is the best Hyatt Place in the world.
Pool Bar
At one end of the pool area, Coconut Charlie's Bar (same as the restaurant) has a decent size seating area and even a spot for live entertainment.
Since this was such a nice Hyatt Place, maybe I shouldn't have been surprised at the drink prices.
Pool Cabanas for Rent
Around the pool, there were about 10 cabanas which you could rent. Some had TV's & refrigerators while some just had lounge chairs.
Guest Laundry
On the 2nd floor of the Hyatt Place Panama City Beach, there's a convenient laundry room for guests.
There are 3 pairs of stacked washers and dryers in the laundry room. Each machine is coin operated (quarters only) and costs $2.50 per load.
There were large containers of detergent on a table which were free to use. My guess is that the Hyatt PCB will probably install a dispenser to sell detergent in the future.
The laundry room also had a chair with a big screen TV in case you want to wait for your clothes vs leaving them alone.
Fitness Center
Right across from the guest laundry is the Hyatt PCB gym.
While not a big fitness center, there was space for a maximum of 10 people working out at the same time in this gym.
I counted 2 ellipticals, a rowing machine, 3 treadmills, 2 exercise benches, a weight machine and a set of free weights.
Meeting Space
Rounding out the 2nd floor was a pair of meeting rooms which had their dividing wall removed. The double meeting room was setup with about 60 chairs around a dozen tables.
On the Hyatt website, it says they have 1316 square feet of meeting space.
I didn't check capacity but it looked like you could easily fit 100 chairs in this area if you didn't have the tables.
On each end of the meeting room, there was a large screen TV with an HDMI cable to connect to a laptop.
So far, this was just an average meeting room with a nice beach view out the windows.
But then I realized that there was a large private balcony, only accessible from the meeting rooms.
Wowza! If you gotta have a meeting, might be worth booking a meeting at the Hyatt Place PCB just for this!
Pet Friendly
The Hyatt Place PCB is pet friendly. You can bring up to 2 dogs, each up to 50 pounds, per room.
Pet fee is $75 for up to 6 nights. For 7-30 nights, the pet fee is $175.
In case you're wondering, no dogs are supposed to be on the beach. But there is a dog beach area right next to the PCB Pier, less than a mile away.
Beach
Just steps away from the Hyatt Place PCB is one of the most popular beaches in Florida.
It's hard to miss the "To The Beach" sign near the pool. Follow that to the key card locked gate and then take the boardwalk through the sand dunes to the beach!
Like most of Panama City Beach, the beach directly in front of the Hyatt is wide and flat with white sand that's very soft.
The water is also pretty clear. Not as crystal clear as our favorite beaches in St Martin & Hawaii, but definitely not murky.
Not only is the beach flat but so is the bottom of the water. You could easily wade out 50 yards (meters) and still only be in waist deep water.
When we visited in the shoulder season of early November, there were very few people on the beach. Panama City Beach is a popular destination so expect it to get pretty crowded when the weather is warmer.
Beach Amenities
The day before we arrived, I called the hotel & was told that free beach chairs and umbrellas were provided for all guests. At check in, we were told our wristbands were to get the free chairs & beach umbrellas.
Here's what we found at the beach.
Apparently, the front desk didn't know that the Hyatt PCB only provides beach chairs & beach umbrellas from Spring Break until Halloween. It was a few days into November but the chairs & umbrellas were locked up when we got to the beach.
And they were totally removed on the next day of our visit.
When I complained, I was told that it's a 3rd party that manages the chairs & umbrellas so it's not the Hyatt's fault. No compensation was offered.
Being told that these would be available & then NOT getting them was probably the most disappointing thing about our stay at Hyatt Place PCB.
So we went to WalMart & bought a couple of cheap beach chairs.
On a related note, Hyatt PCB does not provide coolers for you to take to the beach. But we scored a "FREE COOLER" that someone had left on top of the ice machine on our floor.
We used the cooler a couple times and then replaced it where we found it. Hopefully, it got some more usage by the next person who found it!
Parking
As I mentioned earlier, Hyatt Place Panama City Beach offers valet parking for $19 but it's probably not worth it to most people.
Free self parking is available across the street in the Hyatt Place parking garage.
Things to Do Near Hyatt Place PCB
While looking for things to do in Panama City Beach, we listened to a really good podcast interview of Jan Johnson, a native of the PCB area. Listen to Jan's interview at the We Travel There podcast website.
We also got some inspiration from Jordan at The Solo Life and this site.
Here are a few that are really close to the Hyatt.
Best Seafood in PCB
Exactly 1 mile from the Hyatt Place is the best seafood in Panama City Beach: Local Steamer Seafood Market.
Not only did we get some fantastic shrimp, Local Steamer had friendly service and good prices. Since we usually goto All Inclusive Resorts for free, we kept our total vacation budget pretty low by getting take out seafood from here multiple times.
Closest Liquor Store
If you don't want to pay $16 for a cocktail at the Hyatt Place's bar, you're in luck. There's a liquor store and bar right across the street.
PCB Beach Bonfire
When we were coming in from a day at the beach, a local company was setting up a party and bonfire on the beach.
We didn't partake but this was the $699 package from Light Me Up which included cornhole, chairs, tiki torches & a 3 hour bonfire permit.
Globalist Benefits
Most hotels have a loyalty program that rewards frequent guests. We're loyal to Hyatt in large part because they promise (and usually deliver) great perks to their top tier elite members. Here's how the Hyatt Place PCB stacked up against what Hyatt Gloablists are promised.
Elite Check-in
There was a line for World of Hyatt members to check in but I didn't need it as no-one else was checking in when we arrived..
Globalist Recognition
Upon checkin, Roxanna thanked me for being a Hyatt Globalist. She was super friendly & helpful. She even said she'd put me in a nice room that she thought I'd be happy with. Oh, boy, was I ever happy with the room upgrade!
Room Upgrade
Way to go, Roxanna! She upgraded our standard, Walmart-view room for a shockingly beautiful corner suite with a Gulf view! I didn't even realize that any Hyatt Place had suites.
Early Check-in & Late Checkout
This caused some unnecessary stress.
Since we'd be arriving at 9am, I called the day before arrival. I said: Hi, We'll be arriving at 9am tomorrow. Would we be able to get early checkin?
The unknown front desk person's answer was an unexpectedly brusque "We won't know until you get here."
Umm, ok. I'm a Globalist. Do you offer early check in for Globalists?
"Well, Mr. Globalist, like I said, we won't know until you get here."
Geeze. When I asked for early checkin, I really don't think I was an ass. But her passive aggressive response made it clear that's what she thought.
For the record, here's the official Hyatt Place early checkin policy. Globalists get free early check-in at 9am or 12pm, subject to availability.
While the rude response might have been technically correct, Roxanna who checked us in at 9am was the opposite of the jerk who I talked with on the phone. Roxanna made it seem like they always have space available for early check-ins by Globalists.
Roxanna was also happy to confirm a 4pm late checkout for us.
Resort Fees
If you're not staying on points, you'll be paying a $40 + tax resort fee. The other exemption is that Globalists don't pay resort fees regardless of whether we're paying for our stay or we're staying for free. Our bill did not have a resort fee charge.
Bottled Water
However, our bill did have an incorrect charge for bottled water. Globalists get 2 free bottles of water from the Market each day.
The charge was from a front desk worker who was agitated with her computer & had several people waiting to check in. At most Hyatt Places, we just tell the front desk we're Globalists & they just say "Help yourselves."
I asked for our free water from the market & she told us to wait. After a 10 minute wait, she finally wrote down our room number so we could take our free water.
I didn't catch her name but she's probably the same person who wasn't very helpful when I called asking for early check-in. I saw several Hyatt employees at the front desk. They were all helpful and cheerful, except this one.
Earning Hyatt Points
We had $66 of eligible spend for a dinner at Coconut Charlies restaurant. The Globalist 30% bonus points were deposited into my WoH account.
Faster Internet
While we had a decent 13Mbps wifi connection in our room, I never saw anything about faster wifi for Globalists.
Club Access
There is no Club at the the Hyatt Place Panama City Beach. In fact, I don't think that any Hyatt Place has a club.
Free Breakfast
Yep, we had a pretty good free breakfast at the restaurant but everyone gets it, not just Globalists. As I discussed earlier, this was a little above average for a Hyatt Place breakfast buffet.
Free Parking
All guest get free parking. Valet parking is $19/night but I was told that Globalists do not get free valet parking. Since the parking garage was so close, this was barely a minor inconvenience.
Hyatt Place Panama City Beach Review: 5 of 5
The Hyatt Place PCB far exceeded our expectations. While we knew it would be a brand new hotel on the beach, we could not have imagined how nice it would be. With the 1 previously noted exception, the staff was fantastic!
The Hyatt Place Panama City Beach should be on every list of best Hyatt Category 4 Hotels.
The Bottom Line: Would We Visit Again?
With cheap, non-stop flights from Nashville, and the ability to book a free night at the Hyatt Place PCB for only 15k Hyatt points, we're already planning to return to this beach front resort!
Best Category 4 Hyatt
For World of Hyatt Members, we think this is the best Category 4 Hyatt! Especially if you want to use your Category 1-4 Certificate at a Hyatt on the beach, the Hyatt Place Panama City Beach is your best choice!
Our Favorite Beach Trips & Tips
This quick 2 night vacation to PCB was just what we needed to break up the month. Check out some of our favorite beach vacations & how We finally Get To Travel for next to nothing!