It seemed like everyone we knew had been to Hawaii except us. I mean, even our 2 girls went to Hawaii for Thanksgiving last year. So we booked a 10 night trip to Hawaii in February with a budget of just $2500.
Were we able to stay under budget with flights, hotels, meals and fun? Read on to learn what we loved and the several mistakes that we made.
Hawaii February Vacation tl;dr
It's our first trip to Hawaii! And we loved it! We did so many things and saw so much on our 10 day Hawaiian vacation in February that it passed by way too quickly.
We did more planning for this trip than we've done for any other trip before. We knew we wanted to hit as many sights and experiences as possible but still have some time to relax on the beach.
To give you an idea of how much we crammed in, here's our Hawaii vacation by the numbers.
10 Nights
7 Flights
3 Hawaiian Islands
4 Hotels
0 Checked Bags
3 Rental Cars
2 Luau's
1 Volcano
2 Lava Tubes
1 iPhone lost in the Pacific
7 Green Sea Turtles
4 Whales
2 Loads of Laundry
18 Beaches
2823 Pictures & Videos
10 Day Hawaii Vacation Budget
Hawaii is super expensive. Could we really do 10 nights in Hawaii on a budget of just $2500?
And if you know that our 4 hotels were $395/night, $435/night, $2,129/night & $411/night, you'd think no way. That's already over $10,000! Crazy, right?
Here's the secret.
We only paid cash for 1 night ($435) and more than half of our meals were free.
This website is about how Zuzu & I finally get to travel and a huge reason is taking advantage of the unbelievable rewards offered by credit cards as well as hotel and airline loyalty programs.
If we'd paid cash for everything, this was a $13,559 once in a lifetime trip.
Thanks to points and miles, we spent less than $2500 (well, if you don't count the lost iPhone) and we're leaving for our next adventure to Cancun in 2 months.
I hope you'll be inspired by how #WeGetToTravel and that #YouGetToTravel soon too!
Weather in Hawaii in February
The weather in February was fantastic for our entire 10 day trip across 3 Hawaiian Islands. The average temperature was essentially a high of 80 and a low of 69 every day.
The only time we were cold was at the top of Kilauea Volcano because of the wind and some mist. But hey, it's the top of a mountain so no surprise there.
The locals tell us that it only gets about 10 degrees warmer in the summer with an average temperate of 90 during the day & 73 at night. The moderate temperatures are due to the favorable trade winds that keep Hawaii in comfortable weather year round.
February Weather was Perfect!
Overall, the February weather in Hawaii was just perfect for a tropical vacation. We did agree that we'd love to come back and see what it's like in the summer. Especially if the water is 4-5 degrees warmer!
Fly to Hawaii for Free from Nashville
One of the biggest reasons we've been able to travel for almost free has been Southwest Airlines.
By getting the right credit card, we got a Companion Pass for Sandra. She flies free any time that I fly.
BTW, the same Companion Pass offer is going on Right Now. Click here to see the details!
So I booked my round trip with points (earned on Chase credit cards) and she came along for free.
Well, Cheap But Not Quite Free
Total cost of our 2 round trip Hawaii tickets: $22.40 for taxes and fees.
Our Nashville to San Diego non-stop was full. 4 and a half hours in a plane is not alot of fun but it wasn't miserable.
Scored an Empty Exit Row in Southwest
But our San Diego to Honolulu flight was about half empty. Not only did we get exit row seats with extra legroom, we had 3 seats to ourselves! Plenty of room to spread out on that 5 hour flight across the Pacific.
Southwest Pre-Clear to Skip Hawaii Health Screen
Hawaii does health screening when you arrive. Not excited to do that after traveling for 12 hours.
Fortunately, we were able to get screened with Southwest Pre-Clear on our San Diego layover. We didn't have to do anything after arriving in Honolulu!
Aloha Honolulu!
Our flight from San Diego got to HNL airport at 8:30 pm local time or 12:30 Nashville time. By the time we got to our hotel in Honolulu, we were pretty beat.
Hyatt Regency Waikiki Beach
Our home for the first 5 nights was the Hyatt Regency Waikiki Beach. It's just across the street from the most famous beach in Hawaii.
Read my full review of the Hyatt Regency Waikiki Beach here.
The cash rate, including taxes & fees is $395/night. Instead of paying $1,975 cash, we used 100,000 World of Hyatt points to get a free 5 night stay.
Globalist Perks at the Hyatt Regency Waikiki
From my perspective, the World of Hyatt loyalty program is the best hotel program for people who want to travel and get the most out of their elite status.
Through a little business travel and a lot of leisure travel last year, I reached Globalist Status, the highest elite level with Hyatt.
For this 5 night stay, Globalist status gave us:
Free upgrade to a high floor Ocean View Room
Access to free breakfast, lunch, dinner & snacks in the Regency Lounge
Free Valet parking
$150 Resort Fee Waived
If you're not a Hyatt Globalist, you can buy that room upgrade & club access for $180/night + tax & fees. Valet parking was $300 or you could self park for just $250. So that's ~$1500 value right there.
My World of Hyatt credit card helps me reach elite status more easily than without it.
Want to know the specific details of how we stay at luxury hotels for free? Click here!
1 Day Drive on Oahu
After a good night's sleep, we just wanted to drive around the island of Oahu for 1 day. We headed north from Honolulu and then east across the mountains. The incredible views were just jaw dropping.
We didn't check any baggage for this 10 day Hawaiian vacation so where do you get all the things you need?
Why at Target, of course!
Target in Hawaii Saved Time & Money on our Trip
We always try to avoid checked bags. I budget an extra 30 minutes to check bags and an extra 15 minutes at baggage claim.
Most airlines (but not Southwest) are going to charge extra for checked bags.
Traveling is just better if you don't check bags. And Target is our goto place to get the items that would have required checked bags.
Sunscreen, snacks, drinks and the swim goggles that we forgot to pack were quick and easy to buy at the Target in Kailua.
And Sandra gets 5% back on her Red Card. That's my girl!
Stumbled across Waimanalo Beach
While Sandra was expertly navigating the aisles at Target, I was searching for somewhere to grab lunch. We wanted to find a place with a local flair which was close enough to a park to eat on a beach.
Ono? Oh, Yes! Great Little Dive Restaurant at Waimanalo Beach
The reviews on Google for Ono Steaks and Shrimp Shack sounded great. And the pictures looked like a great local dive. It was a clear winner.
Google Maps showed Waimanalo Beach just 3 blocks behind Ono Steak & Shrimp Shack.
We got a single big to-go plate of shrimp, steak, rice and potato salad to share. With drinks, tax & tip, it was $33.
Waimanalo Beach's Modest Neighborhood
We left our rental at Ono's parking lot & walked thru a very average looking neighborhood. These mostly modest looking houses would have been $100k-300k in our neck of the woods. The nicest house would have been maybe $500k.
The point is, these were not what you would call mansions.
As you can see, the unmarked beach access was a narrow path between 2 ordinary homes.
But then it opened onto possibly the most beautiful beach that we've ever seen in all our travels: Waimanalo Beach!
We've seen plenty of spectacular beaches but never one this void of people and commercialism.
Why Waimanalo Beach is the Best Beach on Oahu
No vendors within sight and maybe 1 group of people every 100-200 yards. And this was on a perfect weather, Friday afternoon.
Mountains & islands in the background, perfect sand, plenty of both sun & shade, and a gentle slope in the water all made for discussions about the perfect place to return to and visions of retiring here.
Whenever we get back to Oahu, we'll plan on at least a full day or more at Waimanalo Beach instead of the 1 hour we spent there on our 1st trip to Hawaii.
So we finished our lunch and loaded up for the next beautiful view on this 1 day drive around Oahu.
We probably could have stopped 50 more times on the 17 mile drive back to our Hyatt. But the plan was to make it back for drinks in the Regency Club to see the sunset on Waikiki Beach, so we skipped alot.
Sunset on Waikiki Beach
The sunset on Waikiki Beach was just spectacular!
The Hyatt & the Regency Club is across the street from Waikiki Beach and on the 3rd floor so the view was perfect.
Night Out in Waikiki
After filling up on free dinner (which was really just heavy appetizers) at the Regency Club, we walked up and down Waikiki Beach.
We tried going to the much renowned Duke's Waikiki Bar but the wait was 2 hours to get a bar seat with a view. We put our name in to text us but wandered next to the Royal Hawaiian.
Drinks at the Royal Hawaiian on Waikiki Beach
They told us our wait would be 45 minutes but we got lucky and got a prime, beachfront table after just 10 minutes.
Pinch me. I'm having Mai Tais & Blue Hawaiians with this beautiful lady in paradise.
How's that for a great end to our 1st full day in Hawaii?
Day 2 in Hawaii revolved around visiting the Polynesian Cultural Center but we had the morning at Waikiki Beach.
It was a good hour and a half drive to the Polynesian Cultural Center but we stopped several times so it took us about 3 hours to get there.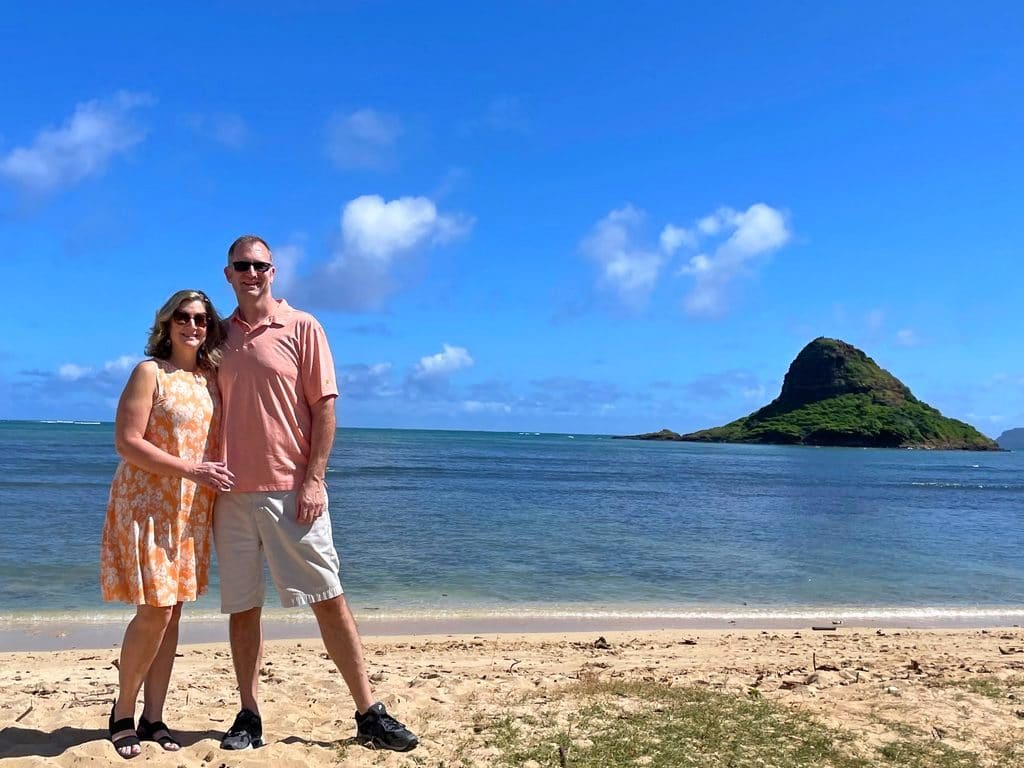 Polynesian Cultural Center
Want to know alot more about the PCC?
Click here to read my much more comprehensive review of the Polynesian Cultural Center!
The Polynesian Cultural Center (or PCC) is a very family friendly tourist attraction tightly connected to BYU Hawaii. Our visit was one of the many highlights of our Hawaiian vacation.
The PCC is a living museum for 6 Polynesian Islands including:
Hawaii
Fiji
Tonga
Tahiti
Samoa
Aotearoa (New Zealand)
The luau was not what we expected. They called it a luau but it was more like a dinner theater show.
The buffet food was not stellar but good with lots of Hawaiian dishes. Really loved the pineapple smoothie and the red, hairy rambutan fruit.
Back in my college days, we'd smoke a pig in the ground every year. These guys were definitely more buff than my friend David Crane but his pig was way better to eat than theirs.
Why the PCC was Disappointing
Definitely very happy that we visited the Polynesian Cultural Center. Unfortunately, we were expecting a more traditional luau and didn't get it at the PCC.
That's ok. It just made us realize that we wanted to splurge on a more traditional luau (The Feast at Lele) on an upcoming night.
Want to see and hear more about the PCC?
I wrote alot more in my Polynesian Cultural Center review here.
Day 3 on Oahu Didn't End Well
Our 3rd full day on Oahu didn't go how we planned but it started with this beautiful rainbow over Waikiki Beach.
We really had high hopes for this day. The plan was to spend most of the day at Pearl Harbor and then head up the leeward (West) side of Oahu to explore and get a different view of the sunset.
Unfortunately, the good omen of the morning's rainbow didn't last all day.
Pearl Harbor
Visiting Pearl Harbor was #1 on our list of Things to Do in Hawaii.
Please read my detailed blog post about our Pearl Harbor visit here.
Paying our respects to the 2,403 Americans who were killed in the Japanese surprise attack on December 7, 1941 was important to us.
While the USS Arizona Memorial is the focal point of a visit to Pearl Harbor, there are are also exhibit galleries, outdoor markers, an audio tour (which I highly recommend), a bookstore and a Virtual Reality experience of the attack.
There are several other historic sites like the USS Bowfin Submarine Museum and Park, the Battleship Missouri Memorial, and the Pacific Aviation Museum.
Pearl Harbor Tickets
It's free to enter the Pearl Harbor National Memorial but you must pay a $1 reservation fee for the ferry out to the USS Arizona Memorial.
Don't make the same mistake that we made. We almost didn't get to see the USS Arizona Memorial.
We Lost Most of our Pearl Harbor Pictures
Our visit was powerful but I'm sad to say that we lost 95% of the pictures that we took. As I tell in the next section, I lost my iPhone a few hours after leaving Pearl Harbor.
None of my pictures had uploaded to the cloud yet so we only have these few pictures from Sandra's iPhone and the strong memories of our visit.
I'm thankful we have these last 2 pictures because they're what I'll remember most.
I love this view of the American flag. Here's what the NPS says:
"As a special tribute to the ship and her lost crew, the United States flag flies from the flagpole, which is attached to the severed mainmast of the sunken battleship."
One of the last things we saw on the Arizona was this wall of names of the servicemen lost. This was the most moving moment of our visit to me.
Want to read & see more about our Pearl Harbor visit?
Click here for my full Pearl Harbor blog post.
Lost iPhone in Hawaii
After Pearl Harbor, we drove up the leeward (West) side of Oahu to find a beach and watch the sunset. We found Nanakuli Beach which had a pretty good crowd of locals enjoying the afternoon.
That picture doesn't do justice to the steep sand embankment where we had our chairs. We were higher up than that guy that you see in the background on the right. WAY above the water line.
A Coconut Cost Me $1100
Short story is that we got distracted. Zuzu on her iPhone & me with a coconut that washed up in front of us. The water hadn't even licked our toes when a huge wave crashed over our heads!
We got knocked out of our beach chairs & everything got soaked. Sandra's phone was ripped out of her hand but she found it a few feet away. She didn't realize that I had left my phone in her lap when I got up to get the coconut.
We searched until it was dark but my phone was gone. It never connected to a cell tower or the internet again.
Wasted Half a Day in Paradise
It wasn't an option to go another 8 days after losing my iPhone in Hawaii.
I spent a few hours that evening trying to figure out my best option. That turned out to be at the Verizon store when it opened at 9am the next morning. That's NOT the way I wanted to be spending my time in Hawaii.
Was Verizon Store in Honolulu Great? Not At All
The Verizon store in Honolulu not only didn't help, they made me feel worse.
They didn't have a phone that was close to what I wanted. No iPhone 13 (regular or Pro) with 256 or 512GB in any color.
No Aloha Spirit from the Verizon Manager
When I snapped this (uncropped) picture with my GoPro, the store manager snapped at me with a very accusatory "Why are you taking pictures?"
Told him that losing my phone while on vacation in Hawaii was a big deal and I wanted to have some pictures to share online.
Thanks for making me feel like you appreciate my business, jerk.
At Least the Honolulu Apple Store Treated Me Well
Then I headed to the Honolulu Apple store which wasn't open yet. Apple didn't have exactly the replacement iPhone that I wanted but they had close enough. And Justin was great as he helped me get the new phone setup.
Unfortunately, I had to return to Verizon store for activation.
Verizon People Just Keep Failing
A very pleasant worker got my phone on the network and even pointed out a small improvement to my business account's plan that gives more bandwidth and actually lowers my bill slightly.
She made a big deal about how it only worked if I had AutoPay turned on for my account so she confirmed that. Then she told me to please contact her if I needed anything. She can help any business account client, regardless of location. She was great!
Verizon Account Overdue! What?
Unfortunately, 5 days after we got home from Hawaii, I got a notification that my account was overdue. What?
Autopay had been turned off & I didn't do that. I texted the same person. She never replied.
Doing Laundry at Hyatt Regency Waikiki Beach
Meanwhile, Sandra did a couple loads of laundry in the Hyatt's laundromat.
Not exciting but we planned to do laundry so that we could take this 10 day trip with only 2 carry-ons and no checked luggage.
After wasting a half day of vacation, we finally got on the road at about 1pm.
Heading to North Shore
Other than driving to the North Shore area on Oahu, we didn't really have a plan.
Justin at the Apple store had mentioned Hale'iwa Beach so we mapped a route.
Armed with my brand new iPhone and our free beach chairs from Hyatt Regency Waikiki, we headed to North Shore on Oahu.
After half an hour at Hale'iwa Beach, we packed up and headed to the next beach that caught our attention.
So! Many! Beautiful! Beaches!
It's just staggering for these Tennessee tourists to see all these fantastic beaches that you can visit on Oahu.
Sorry, I'm out of words to describe the beauty of all the different beaches where we stopped.
After a few hours of beach overindulgence, we plotted our last stop to Turtle Beach to watch the sunset. It didn't live up to expectations.
Turtle Beach Problems
You have to go through a really nice condo area to get to Turtle Beach. While it's a public beach, the roads, parking, paths and even the beach feels like you're trespassing on a private area.
No Sunset at Turtle Beach
Turtle Bay Resort is built on a point on Turtle Bay. I'm sure the resort has got great sunset views but the building completely blocks the sunset from the public beach.
The next disappointment was the turtles… or lack thereof.
No Turtles at Turtle Beach
On the beach, the resort has both a restaurant and a small snack bar on the beach. We asked the snack bar attendant if there were any turtles. She said: "There haven't been any turtles here in 30 years."
That may be an exaggeration but we didn't see any turtles.
More Rocks than Sand at Turtle Beach
And Turtle Beach wasn't your idyllic sandy beach. There's a small beach with sand that's uncomfortably rocky (wear shoes) in the small bay. It was really cold which I'd guess is from the resort blocking the sun.
As you can see in this picture, the rocky area to the right of the resort was really gorgeous.
Like I said, not the best spot to watch the sunset. But we still enjoyed sitting here until the sun went down behind Turtle Bay Resort.
We drove back to the Hyatt Regency Waikiki in the dark. Grabbed a quick poke bowl and packed for an early morning checkout.
Island Hopping from Oahu to Big Island
After 5 nights in Honolulu, it was time to hop to the Big Island to see the volcano.
We had an early morning flight so we checked out at 6am.
Open Air Courtyard at HNL Airport
One standout feature of the Honolulu Airport (HNL) is the open air courtyard after security.
There's a koi pond and many lounges are on the ground floor of the courtyard. These airport lounges looked like they were all closed for covid.
Which Side of the Airplane Has Views of Hawaii?
If you're flying south from Honolulu, get a seat on the left side of the plane.
We had great views of Waikiki Beach and Diamondhead, Molokai, Maui, and the Big Island as we flew during the daylight. We also saw the smaller Hawaiian Islands of Lanai and Kaho'olawe.
Or you can look at water out the right side of the plane. Lots of water.
The Big Island of Hawaii
My list of Best Things to Do In Hawaii included seeing a live volcano. We only had 1 night on the Big Island of Hawaii, but we had almost 2 full days.
How Big is the Big Island of Hawaii?
The Big Island is Bigger than all the other Hawaiian Islands combined but, at 4,028 square miles, it's still pretty small compared to most states.
For reference, that's 4 times bigger than Rhode Island and about the same size as Connecticut.
God's Country, aka Tennessee, is 10 times as large as the Big Island.
So it's no surprise that the Big Island's largest airport, Kona (KOA), is pretty small. Easy in & easy out.
We got our Hertz rental car and headed south along Highway 19.
Click here to learn our 4 step process to save money on rental cars!
1st Stop on the Big Island: Target
Our first stop? Target (that's Target #2 if you're keeping score) for sunscreen, snacks and drinks. Then back to our Hawaiian adventure.
I don't know if we just got lucky but Kokua Kailua was the most colorful drive we'd had in Hawaii so far.
And then we got to the lava fields.
Our conversation turned to the greater diversity of vegetation and geography than we had see on Oahu.
Oahu was great but everything was green. Not here.
The Best Thing on the Big Island?
Do you remember that our kids went to the Big Island a few months ago?
"Girls, what was the best part of your week in Hawaii?"
"The garlic shrimp at the Aloha Mix Food Truck!"
No seriously, what was your favorite thing in a week on the paradise of the Big Island? The beach, the weather, the ocean…?
"The garlic shrimp at the Aloha Mix Food Truck!"
It was on the way to Volcano National Park, so we went. It was great!
Aloha Mix Food Truck
If we had more time, I'd be happy to go back again and again.
Aloha Mix Food Truck packed our garlic shrimp & acai bowl to go and we headed to the black sand beach about 15 minutes away.
Lunch on the beach is always a good thing.
Black Sand Beach & Turtles
The Big Island had already impressed us a ton. (I mean, garlic shrimp, right?)
The Black Sand Beach took it to another level.
White Green Sea Turtles
And then the green sea turtles who turn white sunning on the black sand. Pretty awesome.
We didn't realize this until we were there… but our grandchildren have no choice but to visit the black sands of Panalu'u Beach.
Four Generations from TN have Walked Panaluu Black Sand Beach
Sandra's grandparents were here sometime around 1975-80. Her parents were here around 2002 and our girls visited in 2021.
That's pretty cool to think about. Four generations on Sandra's side of the family have walked along Panaluu Black Sand Beach.
Kilauea Volcano National Park
From Panaluu Beach, it's a nice 45 minute drive to Volcano National Park. Plenty of beautiful scenery along the way but not quite as spectacular as the drive from Kona Airport to the black sand beach.
There's a small Visitor Center where you can learn about Kilauea Volcano. We headed straight to the Volcano House Lodge.
Volcano House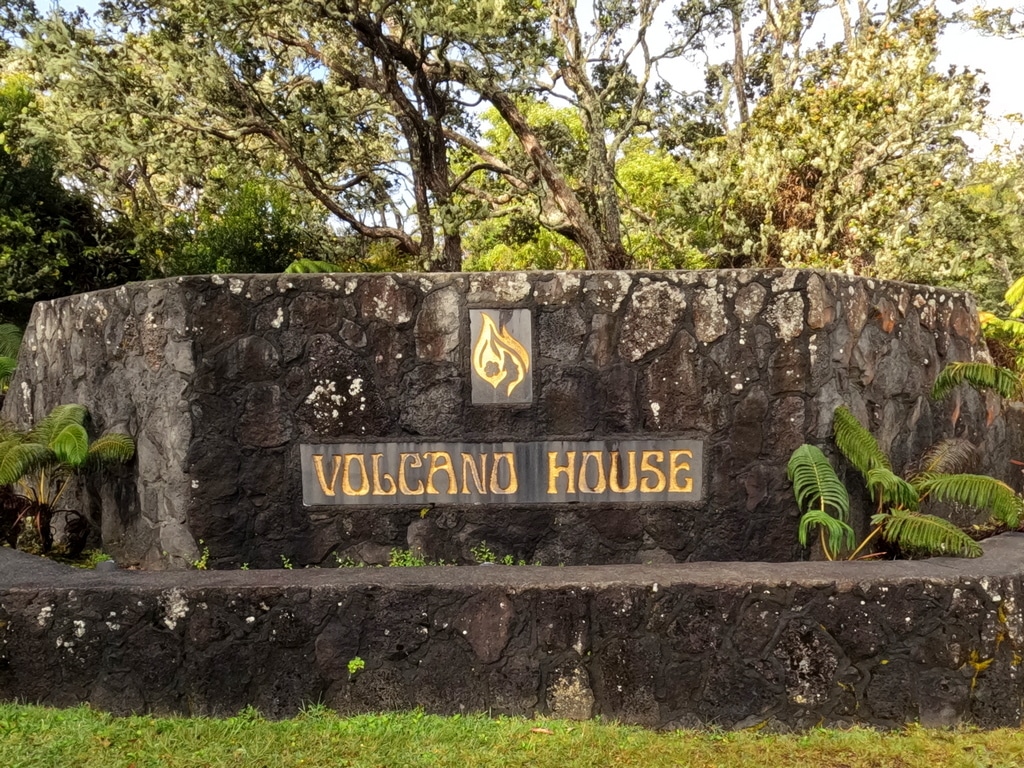 Read my full review of the Volcano House Hotel here.
The Volcano House is exactly what you'd expect from a National Park hotel. Awesome location but you're not going to get any luxury treatment.
Great Location, Where's the Lava?
Our room was only a few hundred feet from the edge of the volcano crater.
At checkin, they told us that the lava was really putting on a show last night but it wasn't expected to be as good tonight. They said sunset or after dark was the best time to see the lava glow so we had a couple hours to kill.
Anyone want to hike through a lava tube? Yes, please!
Nāhuku Thurston Lava Tube
A five minute drive and a five minute hike took us to the lava tube.
Lava tubes are formed when cooler lava solidifies around a river of hot, flowing lava. Some lava tubes, like this one, are very cylindrical. It's almost like a man-made pipe.
I know that picture is a little blurry. Check out Tom's Travel Caffeine post for a great picture of this lava tube.
Lots of stairs to get down to the lava tube but it's an easy, level walk of about 100-200 yards to go thru the lava tube. I've been in a dozen or so caves but this was my first lava tube.
Can we Find an even Better Lava Tube?
I wonder if we can find another lava tube on this trip to Hawaii… maybe even a… secret lava tube?
Yes, we did! Read about the Secret Lava Tube in our Road to Hana Guide.
Kilauea Volcano
The hike to Nāhuku lava tube offered great views of the old volcano craters.
Volcano Overlook, Yes. Observatory, No
We drove about 3 miles from the Volcano House to the end of Crater Rim Drive to the Hawaiian Volcano Observatory. The building has been closed for a few years since being damaged in a recent eruption.
Unfortunately, we didn't have a good line of sight into the lava field so we drove back a quarter mile to the Kilauea Overlook.
Once parked, we had a quarter mile walk to the "Lava Field" viewing area.
Arriving 30 minutes before sunset, it was cold, windy and there was a mist that kept getting heavier. But no lava or glow.
How to Dress for the Weather at Kilauea Volcano
Zuzu & I both had on long pants and sweatshirts but it was cold and wet on top of this mountain. As it got darker and colder and the mist got heavier, we both really wanted a hooded rain coat and gloves.
Fortunately, as it got darker, the half dozen tourists around us started hallucinating:
Is that a little glow? No. What about now? Maybe…
Kilauea Volcano at Night
Finally, after 90 minutes, we got treated to a small, but very photogenic glow of lava!
Happy to see the lava glow but miserably cold, we went back to the Volcano House for dinner.
We bundled up and made another trek to the lava viewing area around midnight.
Kilauea Volcano on a Clear Night
Around midnight, the weather had cleared.
In contrast to our last viewing, the Hawaii volcano weather was much nicer. We were treated to a bright moon and a sky crowded with alot more stars than we have in Nashville.
Gloves would have been nice but there was no mist and the wind had calmed down. We were comfortable with our hooded rain jackets.
Alas, there was no lava glow. Thus ends my first lava viewing episode.
Circle Drive Big Island
After a medium early checkout, we hit the road with about 6 hours before our flight to Maui. From the volcano, that would give us time to complete the circle drive of the Big Island with an hour or two for stops along the way.
Hilo Farmers Market on the Big Island
In about an hour, the Hilo Farmers Market caught our eye. We stopped for lunch and a little shopping.
Lunch came from two different stalls. We got a poke bowl and an acai bowl from 1 place and desert from another place. Donuts on a stick, a rice cupcake and some really good fried bananas in some type of pastry. Yum!
We spent a little more time than planned at the Hilo Farmers Market so we pretty much just drove the next 2 hours back to the KOA airport.
The only stops were quick pullovers to snap a picture of beautiful views like this one.
Flying out of Kailua-Kona Airport
Kailua-Kona Airport was close to deserted at 3pm on a Wednesday afternoon. Hertz dropoff was quick, maybe 10 minutes from getting out of the rental until the shuttle dropped us at departures.
Since we didn't have any checked bags, we bypassed the empty Southwest counter and went straight to security.
TSA precheck had no line and neither did the regular line. I asked the KOA TSA guy and he said that they can occasionally back up and have a wait of 15-20 minutes.
How early should you arrive at KOA Airport on the Big Island?
If I go thru KOA again, I'll plan to arrive 1 hour before my flight. A little more if I have a bag to check.
3 Nights on Maui
Flying from KOA on the Big Island to Maui, we snagged seats on the right side of the airplane. That treated us to more spectacular views of the Hawaiian Islands.
We arrived just before sunset in Maui. There wasn't time to get checked in before dark so we made our obligatory Target run first.
Roosters in Hawaii
See this cute guy on a bush in the Target parking lot? We got sick of them.
Roosters are everywhere in Hawaii and several locals (and tourists) told us they are a total nuisance.
One family who was camping said the roosters waking them at all hours (not just at sunrise) essentially ruined their trip.
After Targeting, we made our way to our nicest, and most expensive hotel of our entire 10 day trip to Hawaii in February.
Andaz Maui At Wailea Resort
In my full review of the Andaz Maui, you can read why they did not meet 5 star resort expectations. But the problems were minor in the big scheme of things. We worked around them and had a fantastic stay.
With taxes & fees, the room we booked would have cost $1,780/night but we used 30,000 Hyatt points per night. As a Hyatt Globalist, I got a free room upgrade a Partial Ocean View King room that goes for $2,009 per night.
With the free breakfast and free valet parking from my Globalists status, this was a $6,500 hotel stay.
$6,500… for free.
Read my detailed review of the Andaz Maui Resort here.
As I've said before, it's hard to believe the massive value that we've gained from credit card rewards in such a short period of time.
How We've Had 6 "Trips of a Lifetime" in 1 Year
Just 14 months before this Hawaii trip, we had NO credit cards and hadn't been on a fancy trip in 20+ years.
Now we've enjoyed >$50,000 of bougie travel for free to places like: Jamaica, Key West, NYC, Miami Beach, Panama City Beach and Daytona Beach.
If you want some tips on how you can travel like this for free (or cheap), I'm happy to help. Keep reading this blog, follow us on Facebook & Instagram, subscribe to our YouTube channel, or just contact me.
Road to Hana
Click here for my complete Road to Hana Guide with 25 more pictures, or read on for the short version!
Can you find a "Best Things to do in Maui" that doesn't have the Road to Hana?
No, and there's a reason for that.
The Road to Hana is a 50 mile drive on narrow, winding roads along the Windward (East) side of Maui. Most of it is very rural and the views are impossibly beautiful.
Why You Need the Road to Hana App
To get the most out of this full day experience, you simply must spend $20 on the Shaka Maui app. Without it, we would have loved the Road to Hana. With the app, the experience was easily 10x better.
Much of the Road to Hana has no cell phone service so the app is triggered by GPS. The narrator is your own personal tour guide who knows exactly where you are.
Start the Road to Hana as early as possible. We left the Andaz Maui around 10am.
6am would have been a much better idea.
The drive will take you 3 hours if you don't stop which would be a COLASSAL MISTAKE! There are tons of beaches and waterfalls so you really want 10-12 hours of daylight.
Seriously, get the Shaka Road to Hana Tour Guide app and click here to read my detailed Road to Hana Guide.
Here are 3 examples that we would have missed without the app.
Secret Lava Tube Cave
"In a couple minutes, there's a small pulloff on your left. There are no signs but there's a secret lava tube cave across from the pulloff" says the Shaka Guide app.
Want to see inside this cave?
Click here to see alot more of Zuzu & me spelunking in the secret lava tube.
Unbelievable! As dozens of cars are going by, wondering what the hell we were doing, we're exploring this little unmarked cave. Easily one of our Best Things to do In Hawaii!
Next, the app tells us to head up this rocky driveway with a small "Hana Gold Plantation" sign.
Hana Gold Cacao & Chocolate Farm
The owner, Aldon says thanks for stopping so he can live out his dream as the "Crazy Cacao Guy" in the jungles of Maui.
And his wife is from the same hometown as Zuzu: Kingsport, TN!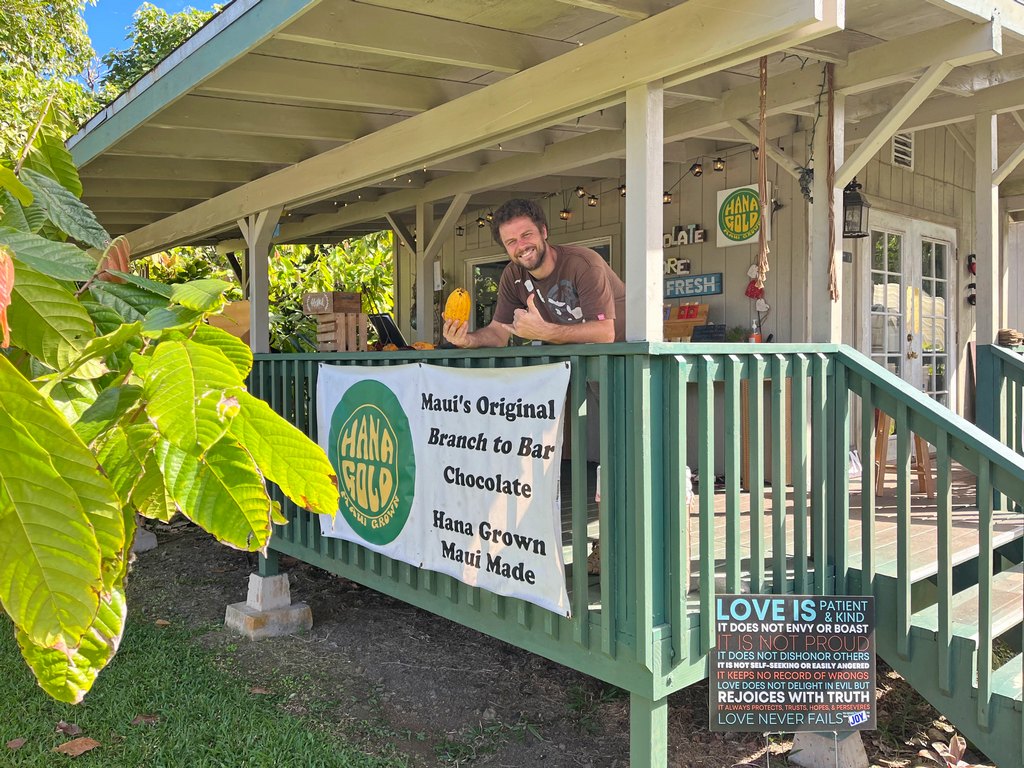 Want to learn more about Hana Gold Chocolate Farm and Aldon?
Click here to read my full Road to Hana Guide!
Venus Pools on the Road to Hana
And finally, Venus Pools was my favorite place on our entire trip to Hawaii.
It's unlikely that we would have stopped at the Venus Pools on the Road to Hana if not for the app.
The app said, "Walk thru the 8 foot tall grass, squeeze thru the cow gate, take a right at the old stone oven and then carefully make your way down the side of the hill."
Difficult Hike to the Venus Pools
Don't try this if you have ANY mobility issues or are scared of heights. Zuzu fell on the way down the terribly steep, unimproved path. Scared us a little, but she lived to tell the tale.
But the payoff was over the top. Only about a dozen people, mostly kids, were down there.
All the kids (ok, there was one guy who said he was 42) were cliff diving into the Venus Pools at the far end from where the path comes out.
Cliff Diving at Venus Pools
Zuzu said "don't do it" but my brand new GoPro told me that I had to jump off the cliff.
Both the GoPro and I survived.
Zuzu just rolled her eyes. She's had alot of practice at that.
It was almost dusk as we climbed the hillside trails from Venus Pools and slipped thru the cattle gate. By the time we reached our car, it was dark.
Driving the Road to Hana in the Dark
Heading home, driving the Road to Hana in the dark is not for the faint of heart. But we made it back safely to the Andaz around 10pm.
While there are many other highlights, this was our favorite day on our 10 day trip to Hawaii.
Want to see and hear more about our favorite day in Hawaii?
Click here for lots more pictures and details in my full Road to Hana Guide post.
Feast at Lele Luau
We slept late on Friday morning and mostly just enjoyed the Andaz before heading to our second luau: The Feast at Lele on Maui.
Unlike the luau at the Polynesian Cultural Center on Oahu, the Feast at Lele was everything that we were expecting in a Hawaiian Luau!
4 Reasons Why Feast at Lele was a Great Luau!
First, the setting: it's on the beach with the island of Lanai in the background.
Second, the food: there are 4 separate courses that correspond to the islands of Hawaii, Aotearoa, Tahiti and Somoa.
Third, the show: coordinated with the 4 food courses, the show covers the culture of the same 4 Polynesian Island nations. This show was much better the the luau entertainment at the PCC.
Finally, there was an open bar with free drinks included in the luau's cost. Since the PCC is a dry campus, there was no alcohol there. It's not a make or break but we would rather have a few drinks with a luau than not.
Free Drinks at Feast of Lele
And the drinks at Feast of Lele were great. Not weak or watered down. They also had drink suggestions that coordinated with the 4 different islands.
Zuzu enjoyed a Mai Tai, a Banana Madness, a Blue Hawaii, 2 Lava Flows (her favorite drink), a Blue Hawaii and a Planter's Punch. And then she staggered onto the stage in front of the whole audience…
Just kidding, some of those drinks were mine.
Whales and Turtles on Maui
Hawaii in February is the best month for whale sightings and Maui is the best island to see whales.
Whale Spotting in February
On the way to the Feast at Lele, I saw a fully breached whale all the way out of the water! Zuzu turned in time to see the huge splash. Holy cow, err, WHALE!
So we were really hoping for a whale sighting on our last day on Maui.
As part of our resort fee (comped for all Hyatt members on free stays) at the Andaz, we got free equipment rental and a free outrigger canoe ride.
Free Canoe Whale Tour
Travis, our guide, took us out about a half mile out and followed a baby whale, its mom and a male "escort" whale for about 10 minutes. While we weren't very close, seeing a whale surface about 10 times was yet another highlight of our February trip to Hawaii.
After the 30 minute ride, we grabbed some free snorkel gear to explore the reefs around the Andaz beach.
Snorkeling with Zuzu in Maui
After a bit, we headed back towards the beach. Zuzu was tired so we surfaced about 30 feet from the beach & decided to split up to let me take a few more pics with my GoPro.
When she was almost out, we saw people near us pointing their hands and phones at a spot near us. They said: "There's a big turtle over there!"
Cool! I turned on the GoPro & hoped I could see that far underwater.
And then this huge green sea turtle comes swimming right at me!
Close Encounter with a Green Sea Turtle
We had seen turtles at the black sand beach and knew that we're supposed to maintain a distance of 20 feet or so. Somehow, this guy hadn't read the same rules.
He swam straight at me from maybe 30 feet away, passing within about 3 feet of me. This was in clear water only about 6 feet deep.
Definitely one of the top 10 Hawaii highlights for me!
And it gets better…
We checked my GoPro to see if I actually captured the video. The turtle was there but we heard all of these crazy, squeaky distortion sounds. Weird… hmmm, OH!
What are all these Clicks & Noises I Hear?
That's right! We had unknowingly captured the songs of hundreds of humpback whales!
I'll add the video to my comprehensive review of the Andaz Maui so you can see and hear for yourself.
Packing up from Maui
All of this whale & turtle excitement was before breakfast on our last day on Maui.
We actually had a 5pm late checkout which meant we could really enjoy our last day on Maui. We had a 8:10pm flight from Maui to Honolulu. That was to position ourselves for a 7am flight from Honolulu to Nashville.
Last Few Hours in Maui: Beach & Food
After our free breakfast, we spent a few final hours just enjoying the beach. Then back to our room to clean up and pack.
Late lunch at the Andaz was Ahi Poke & a Lobster Grilled Cheese beside one of the 4 infinity pools. We didn't talk much over lunch, just savored the last few vacation moments before changing over to full traveler mode.
The lunch and the view was great.
Our $65 lunch bill was covered by a $100 room credit that we received at check-in as an apology for a problem.
You can read more about that in my full review of the Andaz Maui.
We hit the road for the 30 minute drive to Kahului Maui Airport (OGG) and stopped to gas up the rental car.
Gas Prices in Hawaii
I hadn't checked gas prices before heading to Hawaii but was expecting it to be much higher than gas in Tennessee.
Nashville was about $3.33 per gallon when we flew to Hawaii in February. Maui was $4.61.
On average, I found gas prices to be about 40% more expensive in Hawaii vs the mainland. There was a little fluctuation but prices were mostly the same across 3 islands on our 10 day trip to Hawaii.
After returning the rental car, we made the short walk to the Kahului Airport terminal and quickly passed through security.
In about 30 hours, we'd be back in Nashville.
Maui Airport Lounge
There was a small lounge at the Maui airport that we could use for free with my Priority Pass membership (free thru my Chase Sapphire Reserve card).
But the Hawaiian Airlines Premier Club Lounge was about as sad as you can get for an airport lounge.
Unimpressive Hawaiian Airlines Premier Club Lounge
Small, almost no food or snacks, a broken ice maker on the drink dispenser and no restrooms in the lounge.
I guess it was a little better than waiting at the gate… but not much.
Back to Honolulu on Oahu
This was our 3rd interisland flight and the only one in the dark. Just like before, we picked the side of the plane that would give us the best views from the air. In this case, it was the right side that can see the lights of Oahu and Honolulu.
It wasn't a great view of the city lights but it was better than the vast black ocean view on the left side.
Since we would return to the airport in less than 8 hours, we caught a Lyft ride to our hotel for $34.
Hyatt Place Waikiki Beach
Just 4 blocks from where we stayed at the Hyatt Regency for 20,000 points per night, the Hyatt Place Waikiki Beach was only 12,000 Hyatt points for a 1 night stay.
We were only here for a few hours so it made sense to book the Hyatt in Honolulu that cost the least points.
My full review of the Hyatt Place Waikiki Beach has more info but this was a perfectly fine place to rest for 6 hours before our early morning flight back to Nashville.
Heading Home: February Trip to Hawaii
Lifting off from Honolulu Airport at 7am, the morning sun made for some spectacular views from the left side of the plane.
As opposed to our flight from California to Honolulu which was practically empty, our flight from HNL to LAX was full.
Why are so many people catching an early Sunday morning flight to Los Angeles?
Oh, yeah. It's SUPER BOWL Sunday!
We Flew to the Super Bowl
Our pilot reminded us that we'd be landing a few hours before kickoff and that we might actually fly over the Super Bowl Stadium.
Sure enough, we went right over the stadium.
Maybe I'll figure out how to get a pair of $10,000 Super Bowl tickets for free with points and miles. Until then, this is the closest we'll get for free.
Hawaii Trip Souvenirs
We didn't bring alot home from Hawaii. Mainly candy & leis.
The leis are still with us. The Hawaiian candy is in us.
How Much We Spent on this Hawaii Trip
Our February trip to Hawaii was everything we could have asked for and so much more. Here's how the finances came out.
| | | | | |
| --- | --- | --- | --- | --- |
| | Value | Out-of-Pocket | Points Earned | |
| Hotel | $9,822 | $435 | 1305 | |
| Breakfast | $884 | $0 | 0 | |
| Flights | $928 | $50 | 0 | |
| Food | $541 | $476 | 1428 | |
| Entertainment | $845 | $845 | 1735 | |
| Transit | $549 | $549 | 1242 | |
| TOTAL | $13,569 | $2,355 | 5,710 | |
If we don't count the iPhone I lost in Hawaii, we came in under our $2500 budget for Hawaii.
Travel Hacking Saved Us $1,100 Each Day!
$2,355 for a 10 day trip to Hawaii that would have cost over $13,000!
Holy Whales indeed!
Are you wondering what the 5,710 points that we earned are worth? If I cashed them out on my Chase Sapphire Reserve card, that would put $85.65 cash in my pocket.
But in reality, I used them to book our upcoming trip to Cancun so I know that they were worth exactly $428.59!
Next Trip to Hawaii
If it weren't for the long travel distance, Hawaii would have easily been our favorite trip ever. I'm sure we'll travel to Hawaii again but I'd love to travel in First Class or a Business Class lie-flat seat for free.
Looks like that will take about 150-200,000 points so I better look for some big credit card sign up bonuses!
Hawaii in the Summer?
We loved Hawaii in February for the weather and the whales. But we want to return in summer when the water temperature is 5 degrees warmer. The water wasn't too cold but a little warmer would sure be better, as long as it's not too hot.
What to Do On Our Next Hawaii Trip
We definitely want to visit the island of Kauai. Even though I got the shirt for "Maui Nō Ka 'Oi" (Maui is the Best), we heard soooo many people say that Kauai is the most beautiful island in Hawaii. We want to see for ourselves.
And I'd be happy to return to our standout parts of this trip:
Waimanalo Beach
Target (just kidding)
I'd love to know what you think should be on our list of things to do on our next trip to Hawaii!
More from our February Hawaii Trip
Read more about our February Hawaii Trip:
Hyatt Place Waikiki Beach Review