On our 10 night trip to Hawaii, the Polynesian Cultural Center was high on our list of things to do in Oahu. In this review, read how it met (and didn't meet) our expectations.
Day 2 of our trip to Hawaii in February revolved around visiting the Polynesian Cultural Center. The PCC is a family friendly tourist attraction tightly connected to BYU Hawaii where you can experience 6 island cultures of the Polynesian Islands.
Transportation from Honolulu
The Polynesian Cultural Center is on the northeast part of Oahu. To locals, that's the Windward side of the island and most of the way to North Shore.
The PCC offers transportation to and from Honolulu (Waikiki) for $25 per person. It's a good option if you don't like driving on unfamiliar, narrow, crowded roads, especially after dark.
The Polynesian Cultural Center also offer a $75 per person Circle Island Tour that gets an earlier start from Waikiki Beach.
Since we had a rental car and we love to explore by driving, we didn't use the PPC's official transportation.
It was a good hour and a half drive to the Polynesian Cultural Center but we stopped several times so we took about 3 hours to get there.
Driving to the PCC
This drive to the PCC let us see the less touristy parts of Hawaii.
For example, we pulled off at the tiny Kahaluu Beach area to get this picture. This boat belongs to an old man who had been catching crab that morning.
Even where there wasn't a beach or a park, we just had to pull off the road and take in the views along Kamehameha Highway on the drive to the Polynesian Cultural Center.
Our final stop on the drive to the PCC was at Kualoa Park.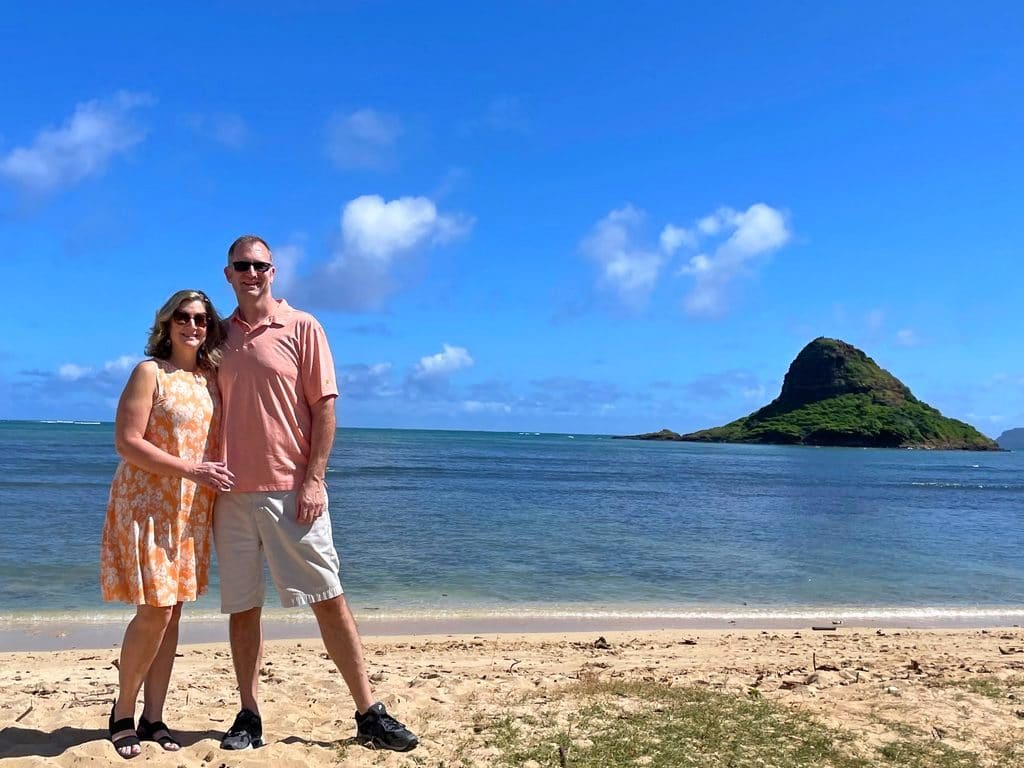 Kualoa Park is pretty large with a great beach. Just offshore is Mokolii (aka Chinaman's Hat) in the background of this picture. It's close enough that you can swim out to the island if you're really adventurous.
In the other direction, across Kamehameha Highway, is Kualoa Ranch.
The views of Kualoa Ranch are breathtaking.
Many major movies & shows have been filmed here including Jurassic Park, Godzilla, Jumanji, Magnum PI, Fantasy Island and even Fifty First Dates.
A visit to Kualoa Ranch is always high on the list of the Best Things to do in Hawaii.
Polynesian Cultural Center
On the edge of Brigham Young University Hawaii, the Polynesian Cultural Center (or PCC) opened in 1962. Since then, this 42 acre tourist attraction features arts and crafts with a large number of performers and staff from BYU Hawaii.
The PCC is a living museum with 6 simulated Polynesian Islands including:
Hawaii
Fiji
Tonga
Tahiti
Samoa
Aotearoa (New Zealand)
After stepping through a collection of stores and eateries in the Hukilau Marketplace, you enter the Polynesian Cultural Center exhibits and living museum.
Zuzu & I have a little knowledge of Fiji (my college fraternity's nickname) and of Aotearoa (my kids taught swim lessons for a family with roots in New Zealand) so we were really looking forward to those villages.
I wouldn't trade our leisurely drive up Kamehameha Highway for anything but I see why everyone recommends that you get there when they open at 12:45.
We only had about 3 hours once we arrived before the luau. We could have easily spent 6 hours (or more) exploring and learning in all the Polynesian villages.
PCC Ticket Prices
Admission to the PPC starts at $69.95 per person. They also have several packages which include dinner and a show.
All PCC tickets (except just the show tickets) include 3 days of admission. Coming back another day didn't fit our schedule so we're thankful for what we did get to experience at the PCC.
| | | |
| --- | --- | --- |
| Polynesian Cultural Center Ticket | $70 | Basic Admission to the PCC |
| Super Ambassador Luau Tix | $243 | Private Tour, Lei, Best Seating |
| Alii Luau Package | $185 | Group Tour, Lei, Good Seating |
| Gateway Buffet Package | $140 | Self Tour, OK Seating |
| Ha: Breath of Life Show | $120 | Self Tour, No Food, Far Seats |
Polynesian Cultural Center Ticket Prices as of February 2022
Kids tickets (4-11) are discounted about 25%. You also get a discount (looks like 5%) for booking at least 10 days in advance.
As I mentioned earlier, transportation is available for $25 per person round trip from the Waikiki area in Honolulu.
Polynesian Cultural Center Luau Review
We bought the Alii Luau Package for $185 each which included PCC entrance, a small group tour guide, flower leis, luau buffet, and special "Gold Level" seating for the "HA: Breath of Life" evening show.
The buffet food was not stellar but good with lots of Hawaiian dishes. If you can't tell from this picture, Zuzu really loved the pineapple smoothie. The red, hairy rambutan fruit was another standout that we'd never had before.
By the way, there's not alcohol on the campus as the PCC is owned by the Mormons aka the Church of Jesus Christ of Latter-day Saints.
Back in my college days, we'd smoke a pig in the ground every year. These guys were definitely more buff than my friend David Crane but his pig was way better to eat than theirs.
There was some dancing and entertainment but it felt more like a nice dinner theater experience than a luau.
Ha: Breath of Life Show
Billed as "the symbolic story of Mana and his beloved Lani, punctuated by Polynesian dance, music and blazing fireknives," this show was spectacular.
Over 100 performers were involved in a high quality production that reminded me of some Cirque du Soleil shows we've seen.
The open air theater was less than half full. Our "Gold Level" seats were great: a little off center and right up front, but I think I would have been happy with any seat. Higher rows might have even been a little better for the viewing angle.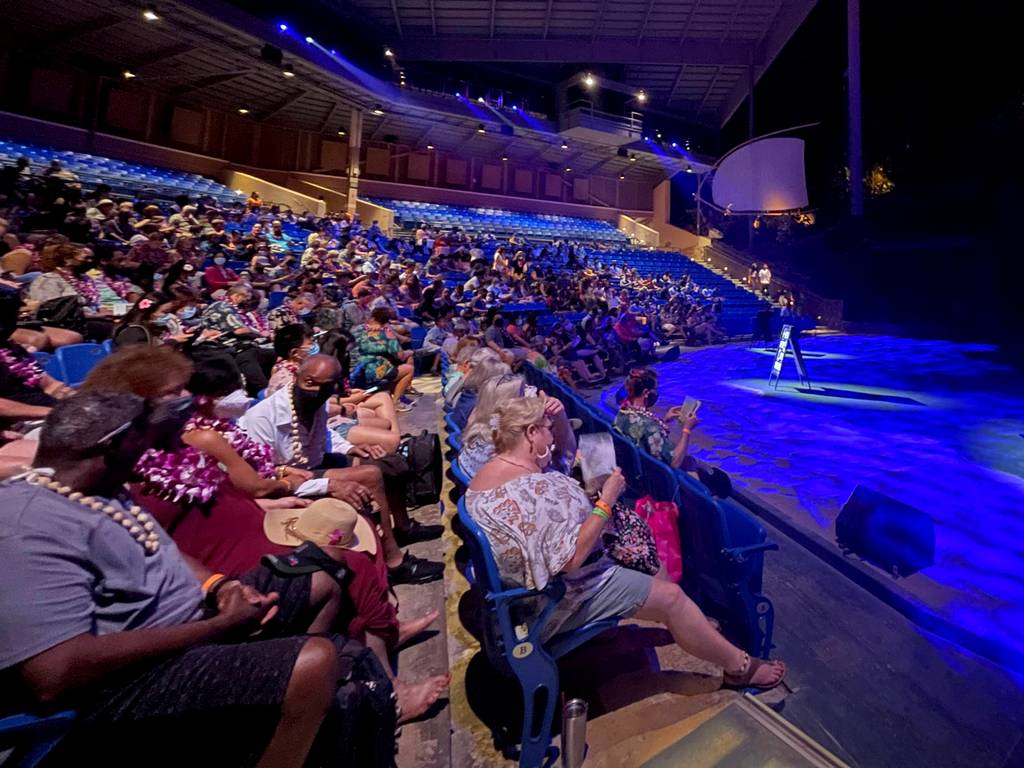 They didn't allow pictures during the show but I can tell you it was visually stunning and really well done.
Is the Polynesian Cultural Center Worth It?
Yes, definitely glad we went but realized that we wanted to splurge on a more traditional luau on an upcoming night.
In hindsight, we would have still gone to the PCC but saved $50 each with the Gateway Buffet Package.
Both Luau packages & the buffet package include PCC admission for 3 days, dinner and tickets to the evening show of "Ha." The main differences seems to be 1) no lei with the buffet and 2) no dinner theater show with the buffet. Those were nice but I'd rather save $100.
Everything about visiting the Polynesian Cultural Center was very positive. The only disappointment was on us, not them.
The whole experience just didn't meet our touristy expectations for "going to a luau."
To make up for that, we spent an unplanned $400 on the Feast at Lele which was a phenomenal luau experience on Maui. It all worked out great and these were some of the many highlights of our first trip to Hawaii.
More from our (Almost FREE) Hawaii Trip
Read more about our over-the-top Hawaii trip and how we got a 86% discount on what we really spent: