A stay at the Volcano House Hotel in Volcano National Park was high on our list of things to do in Hawaii. Read our review of the hotel to see what was great and what was disappointing.
Volcano House Review tl;dr
If you've stayed in any National Park, the Volcano House Hotel will feel familiar. It's not a luxury hotel. The small and old rooms are clean but have very little character and only meet a minimum level of comfort. Only a few rooms are wheelchair accessible.
However, you're not staying here for the rooms. Stay at the Volcano House Hotel for the views!
Both the location and views are spectacular! The Volcano House Hotel is literally on the rim of the volcano crater. There are many hiking and walking options which range from gentle and wheelchair accessible to strenuous hikes.
The dining options are good but make sure to get a reservation early.
Read on for my detailed review of Volcano House Hotel at Hawaii Volcanoes National Park.
Lodging Near the Volcano
On our trip to Hawaii in February, seeing a live volcano was a must. Kilauea Volcano is the only active volcano in the United States so part of our trip planning included research on lodging near Volcano National Park.
Volcano House, Big Island
Being inside the park, the Volcano House Hotel was the obvious choice. But we still reviewed 3 other options on where to stay near Volcano National Park.
Volcano Village Hotels
There are a few hotels in Volcano Village which is about 3 miles from the park entrance. Of the hotels we saw, none really stood out to us.
Vacation Rentals Near Kilauea
We did find some vacation rental options thru Airbnb and VRBO. Same as the hotels in Volcano Village, none of these rentals stood out as nice, affordable and close enough to the volcano.
Hotels in Hilo
The third option for where to stay near Volcano National Park was in Hilo on the eastern (windward) side of the Big Island. Again, nothing stood out and Hilo is about an hour drive from the park entrance.
Since there are few hotels close to Volcano National Park, it was a pretty easy choice to stay at the Volcano House Hotel.
Booking
I assumed that the best option for booking the Volcano House Hotel would be on the hotel's website.
When I'm not traveling, I build SEO friendly websites so I was disappointed that the Volcano House website is not secure (it's http, not https). Seriously? Secure websites have been a big deal since about 2015 or so.
But I was really surprised that I didn't find a link to book a room or see room rates for the Volcano House.
After clicking through all the links in the website's top navigation and scrolling through every page, I gave up and called the hotel. They told me:
"There's a sideways button on the website that says BOOK NOW."
OK, now I see it and I feel stupid. But I can also tell you, as a professional web designer, it's also stupid to not have ANY OTHER LINK to BOOK on the ENTIRE WEBSITE!
After a quick phone call with the Volcano House staff, I returned to the booking process on the website.
There are 5 options for staying in Volcano National Park:
Camping
Cabins
Standard Rooms at Volcano House Hotel
Volcano Crater View Rooms
Deluxe Crater View Rooms
On the phone, I was told that the only way to guarantee a King sized bed was to book a Deluxe Crater View Room. It was only $60 to upgrade from a Crater View to a Deluxe Crater View, and it's slightly larger, so we booked the Deluxe room.
Cancellation Policy
The Volcano House Hotel charges a deposit fee of 1 night plus taxes to guarantee your room. You can cancel 7 days prior to your arrival for free and get your deposit back. If you cancel less than 7 days before arrival, you'll get charged for 1 night plus taxes.
How much does it cost to stay at the Volcano House in Hawaii?
With taxes and fees, it cost $435 per night for a Deluxe Crater View Room at the Volcano House Hotel. Standard rooms are $329. You can get a spartan cabin in Volcano National park for $94 and you can get a camping spot for $15 per night.
All options for staying at the Volcano House Hotel in Hawaii require you to pay for admission into Volcano National Park. That will cost you another $30 for a personal vehicle.
Can you Book Volcano House with Points?
Since it's privately managed for the National Park Service, you can't directly book the Volcano House with points and miles. However, you could cash out some points or use a travel award to reimburse the price of staying at the Volcano House.
On our 10 day trip to Hawaii, this was our only hotel that wasn't free.
We typically travel for free on points and save our cash for unique experiences like this stay at the Volcano House Hotel. Read how you can travel for free like we do here.
Volcano House Hotel Location / Address
Volcano House Hotel
1 Crater Rim Drive
Hawaiʻi Volcanoes National Park
Getting to the Volcano House
To get to the Volcano House Hotel on the Big Island, we flew into Kona (KOA) airport on the leeward side of the island. We rented a car from Hertz and it was about a 2.5 hour drive along HI-11 to get to the volcano.
Along the way, we bought lunch at Aloha Mix Food Truck and ate on Panaluu Black Sand Beach. Fun Fact: 4 generations of Zuzu's family have walked that black sand beach.
The Volcano House Hotel is inside Hawaii Volcanoes National Park.
Whether you stay at the Volcano House or not, you have to pay to enter the park. Cost to enter Hawaii Volcanoes National Park is:
$30 cars & non-commercial vehicles
$25 motorcycles
$15 pedestrian or bicycle
Hawaii Volcanoes National Park is always open, 24 hours per day, 7 days a week. There are closings from certain holidays, eruptions and staffing issues. Check the official website for specific closure info at NPS.gov.
A short drive from the park entrance will take you to the Kilauea Visitor Center. The Visitors Center is usually open 9am – 5pm every day.
Across the street from the Visitor Center, turn left at the large sign for the Volcano House.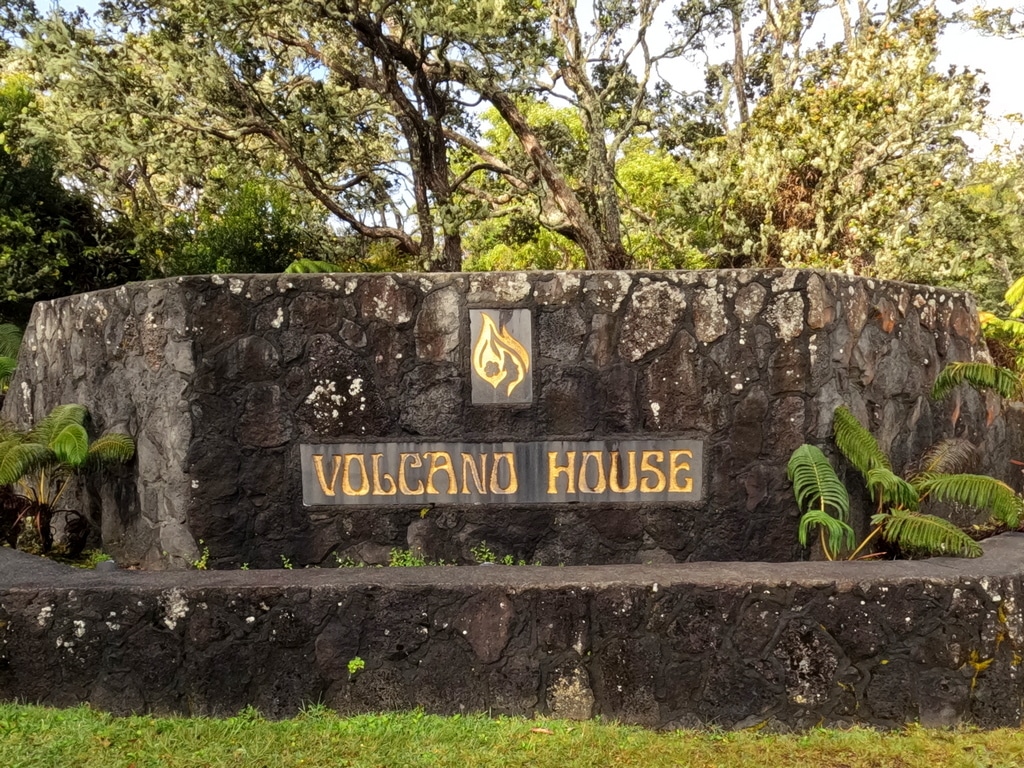 From the sign, it's only a few hundred feet to the front door of the Volcano House Hotel.
Just inside the front door, there's a small foyer. The first of 2 gift shops inside the Volcano House Hotel is on your right.
Lobby and Checkin
Walk through the foyer and the small front desk is just to your right in the Volcano House Hotel lobby.
While they weren't both staffed at all times, there are 2 registration stations at the front desk. We checked in on a Tuesday at 3pm and had no wait. We did see some times when there was a small line and seemed to be a wait of 10-15 minutes to get checked in.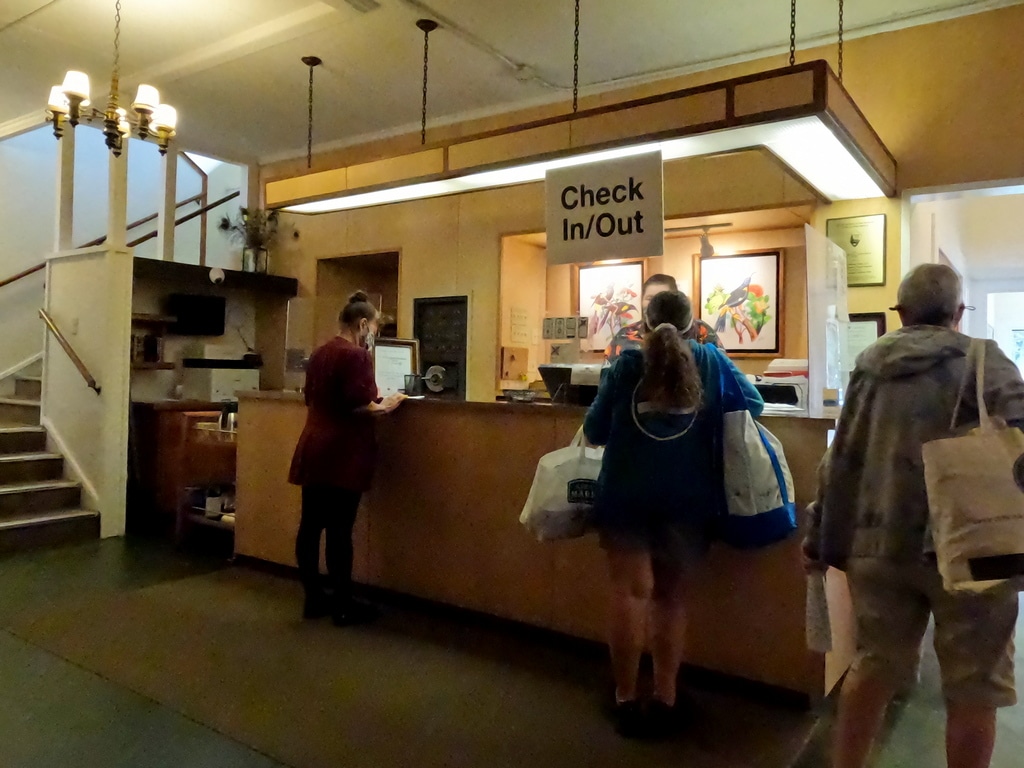 Across from the front desk, it was funny to see a Pressed Penny Souvenir machine. What a throwback! Although these machines were once seen everywhere, I don't think I've seen any in the last decade or so.
The center of the Volcano House Hotel lobby is a large space centered around a fireplace.
Opposite the fireplace, there's a wall of windows with several bamboo rocking chairs.
Out those windows is a spectacular view of Kīlauea Caldera.
To the left of the front desk, there's a few steps up to the hallway towards the Volcano House Hotel rooms.
Accessibility
One thing to note, there is no elevator in the Volcano House Hotel. The lobby, common areas and dining options are wheelchair friendly but most rooms are not.
There are steps between the front desk and all of the rooms. The one and only wheelchair lift I saw provides access to just a handful (maybe 6-8) of the 33 guest rooms.
On the first hallway of rooms, you can look inside the "Historic Men's Steam Room."
The Historic Steam room is roped off and is not functional, but it was neat to see what they had to offer to guests such as Presidents John F Kennedy and Dwight Eisenhower.
Past the rooms and steam room in the original structure which was built in 1941, there's a glass enclosed hallway to the building with our Deluxe Crater View Room.
At the end of the glass hallway, there are more steps, with no wheelchair lift, to the 2 story building with our room. We took the steps down to the ground floor.
The hallway has 8 feet of glass windows on your right and our rooms were on the left, facing the volcano.
As we stepped into this hallway, we were greeted with a disturbing sound. Hold your breath and I'll tell you about the glass louvered windows in a minute.
Room
As you step inside the Deluxe Crater View Room, there's kind of an entryway with counterspace and drawers. The small bathroom was past the counters and the closet.
As we had just spent five nights in Honolulu at the Hyatt Regency Waikiki Beach, this room was really small, only 260 square feet (24.15 square meters). And it was minimally furnished. But we didn't spend much time in our room so it wasn't a big deal.
The king sized bed was much thinner than the luxurious mattresses that we have at most hotels when we travel. It just felt cheap but it was not really uncomfortable. We slept ok on it.
As you can see from the pictures, the king bed and a pair of night stands barely fit in our room.
Not surprising for a hotel built in 1941, there were few electrical outlets and the ones in the room were not really well placed.
There was a small desk with a chair and mirror at the foot of the bed.
Oversized windows and a door onto our room's patio were literally 40 feet from the rim of the volcano crater.
Does Volcano House have air conditioning?
There is no air conditioning in the Volcano House Hotel rooms. You won't need it because you're on top of a mountain and it doesn't get hot here. In fact, there's an extra space heater in case it gets too cold for you.
Louvered Windows = No Privacy
Our room had 2 louvered glass windows to allow a breeze when it's not cold.
The problem is there's nothing between you and anyone standing in the outside hallway. Even with the louvers closed, someone in the hallway can clearly hear any sounds that come from your bathroom. In fact, we could easily hear our neighbors when we were in the bedroom area.
So don't expect too much privacy while you're in your room.
Sticking with the non-luxury hotel theme, there was no mini bar, no refrigerator and no free water.
So we were pleasantly surprised to find a welcome amenity: free "Big Island Delights" cookies. They reminded me of a shortbread based Pecan Sandy cookie.
They were not the best cookies but it was a nice little touch.
Heading back toward the room's front door and bathroom, the closet had plenty of space and hangers.
There was also an iron, ironing board, hangers and a standard hotel room safe.
You'll also find the aforementioned space heater in the closet.
Bathroom
The bathroom was very small but it was clean and had everything we needed.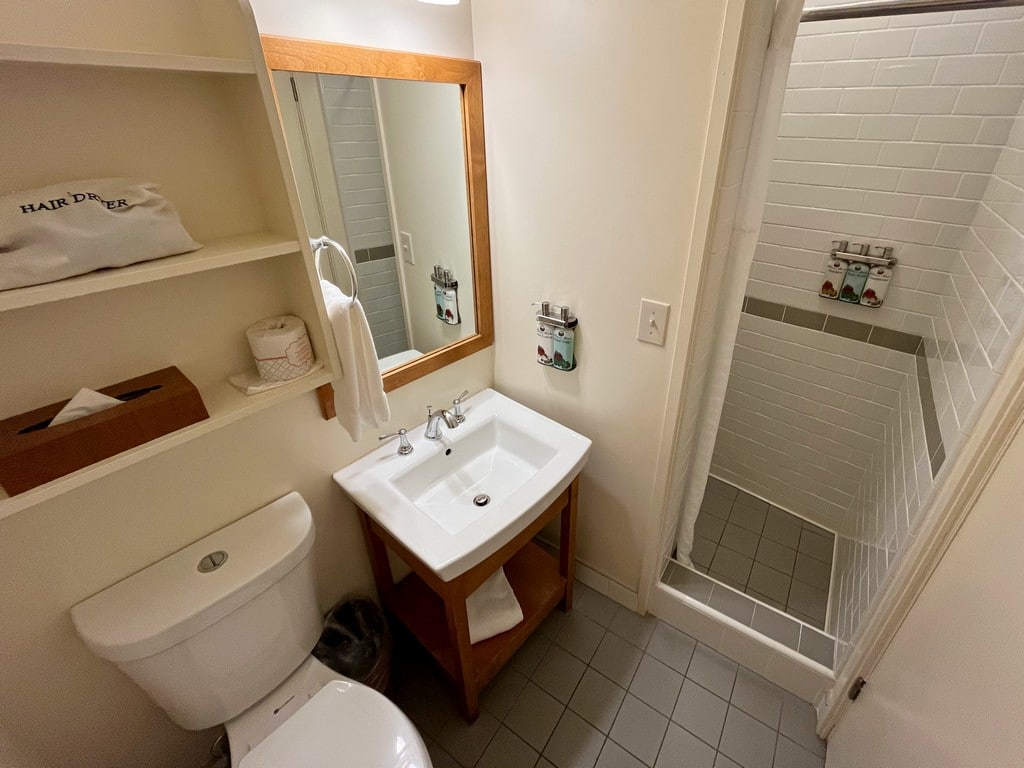 Our bathroom had a single sink, mirror, toilet with water saving flush options, and a walk in shower. There was no tub.
The walk in shower stall in our Volcano House room wasn't enormous like the over-the-top shower at the Andaz Maui (which was big enough for 10 people), but it was fine.
It had a single shower head but it was high enough that tall people (I'm 6'5″) don't have to stoop over. And I didn't feel cramped like in an RV or in a cruise ship shower.
There's an eco friendly set of pump shampoo, conditioner and body wash.
Bathroom Amenities
In addition to the pump set in the shower, there was hand lotion and hand soap next to the bathroom sink.
All the lotions and soaps were in "Volcano House" branded pump bottles. We thought they were all fine but I'm not ready to order a case for use at home.
Over the toilet, there was a shelf with a bagged hair dryer and a box of tissues.
This isn't a luxury bathroom, but it's clean and perfectly functional. And it's a little less dated than the rest of the hotel room.
View from our Room
True to its name, this was a Deluxe Crater View Room. Seriously, we had a deluxe view of the volcano's crater.
Whether looking out or stepping out our back boor, the view was breathtaking. We had a concrete patio with a pair of comfy chairs facing the volcano crater. There was about 20 feet of a grass lawn and then the paved crater rim walking path just before a short stone wall.
The volcano was not very active when we stayed at the Volcano House but it was still a spectacular, deluxe view of the crater.
When the volcano is particularly active, you can see the lava's glow from these rooms.
We just weren't lucky enough for the volcano goddess Pele to put on a big enough show for us.
Volcano House Restaurants
There are 2 restaurants in the Volcano House Hotel. They both share a single kitchen and their menus overlap significantly.
The Rim Restaurant
Fine dining overlooking an active volcano? Yes, please.
Unfortunately, we didn't get reservations for The Rim and there were no spots available for any meal during our entire stay.
With almost no exceptions, all the reviews for The Rim Restaurant were glowing. That was a pun, but true.
We were disappointed that we couldn't eat at The Rim Restaurant but, hey, we'll just eat at the bar, right?
Uncle George's Lounge
The second restaurant in Volcano House Hotel, Uncle George's Lounge, honors George Lycurgus's famous hospitality.
Known as Uncle George for most of his life, he was key to the establishment of Volcanos National Park and owned the Volcano House for most of the 20th century.
The NPS site says: Guests can have a seat at the lovingly restored original koa wood bar in Uncle George's Lounge, where another bronze sculpture depicting Pele's vengeance graces a historic fireplace.
When we got to Uncle George's Lounge, they were full. And the waiting list was also full.
There are no other restaurants in the park.
By this time, it had been a pretty long day. We were not interested in leaving the park to search for food. So we took a look at Uncle George's menu and ordered room service.
Room Service
The server who took our room service order let us know that we could order off either restaurant's menu or both.
Everything came from the same kitchen. She also let us know that they were out of about half of the food in the menus.
Zuzu ordered the Tomato Bisque and Grilled Cheese for $12. I ordered the $28 Stuffed Big Island Chicken. There are no self serve ice machines so we also ordered a bucket of ice.
Our dinner arrived to our room in only 20 minutes. Without the bucket of ice. They apologized & said they'd get the ice.
The grilled cheese was great! The tomato bisque was pretty good as were the carrots and the mashed potatoes. The chicken was disappointing: dry and not flavorful at all.
Zuzu got good value for her $12 dinner. The $28 chicken? Nope.
This was not quite the fine dining experience we were hoping for from The Rim Restaurant.
Volcano House Menu Update
Unfortunately, the Volcano House restaurant menu changed in 2023. According to reader Frank, they still offer the same food but servings have been reduced significantly.
For example, the $12.99 Tomato Bisque and Grilled Cheese is now about half the size of what we enjoyed on our visit.
Volcano House Amenities
No Swimming Pool
You won't find a swimming pool at the Volcano House Hotel. While there used to be a steam bath back in the day, it's no longer active.
No Ice Maker
This was annoying.
There is no self service ice machine at the Volcano House Hotel. I called the front desk twice to ask for ice and it never came. Room service was asked once when I ordered & once when they delivered food without the ice. They never brought ice.
I finally walked down to the restaurant and, after asking 3 different people, got some ice.
It shouldn't be that hard.
Things to Do Near Volcano House
The biggest draw to the Volcano House Hotel is, obviously, the Volcano.
Kilauea Volcano
As the only active volcano in the United States, Kilauea Volcano is the star attraction for visitors who stay at Volcano House Lodge.
Make sure to dress warm. The top of the volcano can be downright chilly, whether it's February in Hawaii or August!
There are many trails around and you can even hike though the dormant volcano crater.
Is it safe to stay at Volcano House?
Yes, it's safe to stay on the crater's rim at Volcano House. We were told there's no danger from the lava, the gas or from an unexpected eruption of Kilauea Volcano.
Can you see the lava eruption from Volcano House?
If the lava flow is active enough, you can absolutely see the lava's glow from the Volcano House Hotel. Unfortunately, it wasn't glowing enough for us during our visit.
Is it worth staying at the Hawaii Volcanoes National Park Hotel?
If seeing an active volcano is high on your list of things to do in Hawaii, then, yes, it's worth it to stay at the Hawaii Volcanoes National Park Hotel.
I recommend watching the lave flow area around dusk and then coming back later that night to see how the volcano has changed.
Once you're in the park, you can see the volcano at any time. They don't close the roads but only Pele knows when the lava will be turned off.
Volcano House Hotel Review: 4 of 5
The Bottom Line: Would We Visit Again?
The hotel was not luxurious but the only reason we stayed at Volcano House was to see Kilauea Volcano. I'd love to get back when Kilauea Volcano is more active. Unfortunately, only the goddess of fire Pele knows when volcanoes will be more or less active.
If we're in Hawaii for an extended vacation, we might go back. But we won't make a specific trip on the chance of seeing a better lava show.
More from our 1st Hawaii Trip
Because we stay for free at luxury hotels & resorts, we were able to spend cash for this one night stay at Volcano House Hotel. Including hotel, airfare, food, drink, car rental & entertainment, we spent ~$800 for our 1 day Big Island itinerary.
We only spent $1500 for the other 9 nights in Maui & Honolulu in much more luxurious accommodations with much better food including 2 Luaus.